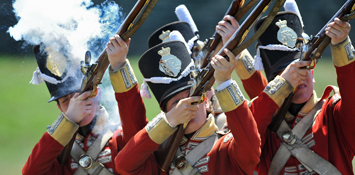 Your Dollars At Work
Help The Friends of Fort York in our many activities and initiatives such as: the operation and funding of the Fort York Guard, sponsoring the Research Centre, maintaining our website that provides historical articles and event information, publishing The Fife and Drum quarterly newsletter, organizing and hosting the annual Georgian Mess Dinner at Fort York, increasing awareness of the Fort and the 1812 Bicentennial through Ad placements in Spacing Magazine, sponsoring the Parler Fort reading series, and funding the Blue Barracks wall hanging project and improvement of the HMS Nancy exhibit.
Donate to The Friends of Fort York
When you donate to The Friends of Fort York, you support a completely volunteer organization dedicated to preserve, enhance, and promote Fort York National Historic Site for the education and enjoyment of present and future generations of visitors.
Online:

Select the Donate Today icon and complete the PayPal form. 

By Mail: Download the membership/donation form. Complete and mail in the form with your cheque or credit card information.
We wish to express our sincere thanks and deep gratitude to all our donors and sponsors – thank you for your support.
For more information or questions concerning donations or sponsorship opportunities please contact us at This email address is being protected from spambots. You need JavaScript enabled to view it. or our office listed below.
The Friends of Fort York and Garrison Common
260 Adelaide Street East, P.O. Box 183
Toronto, ON  M5A 1N1
Charitable tax receipts will be issued for the full amount of the donation
Charitable Organization #89970 5966 RR0001