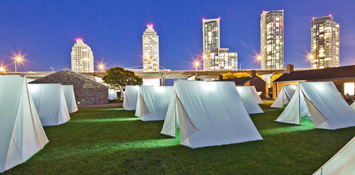 The Bentway Winter Season Opening Weekend, Free Admission
Sat. and Sun. January 6 and 7
Fort York celebrates the opening of The Bentway's Winter Season with free admission and extended hours all weekend long. Join family activities in the Fort York Visitor Centre, including a special pop-up exhibit on winter fun in Toronto and a Fort York selfie booth.
Sat. January 6, 10 am to 11 pm
See Fort York in a 'new' light. Join a special lantern tour to catch a glimpse of garrison life after dark. Our interpretive staff will guide you through a selection of Fort York's War of 1812-era buildings using only 19th century lighting. Tours meet in the Fort York Visitor Centre at 6 pm, 7 pm, 8 pm, and 9 pm. Don't miss out. Spaces are limited.
Sun. January 7, 10 am to 6 pm
The Bentway will host the Mayor's Skating Party from 1 to 4 pm and Fort York will be open until 6 pm to celebrate. With tours throughout the day there is plenty of opportunity to explore the history of Toronto's founding urban landscape–before or after you skate.