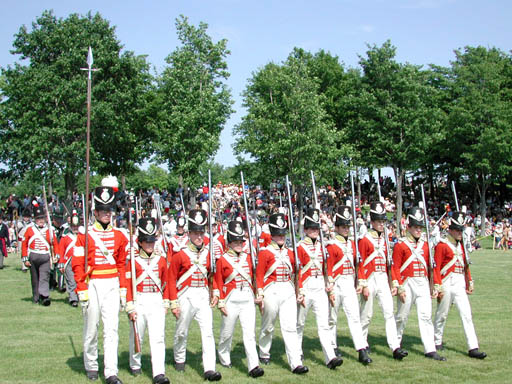 The Bentway Update (Spring 2017)
by Julian Sleath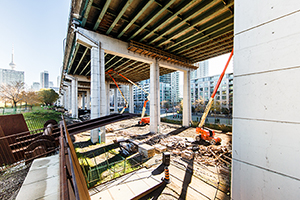 Looking east from the Fort York Visitor Centre. Harry ChoiOver the last couple of months I have been delighted to get to know the project better and to build relationships with our good friends at Fort York and others in the neighbourhood. I have also been busy building The Bentway team and would like to welcome David Carey as director of development and Ilana Altman as director of programming. It is wonderful to see the progress that has been made—we are all excited to turn this wonderful vision into reality.
Construction work is well underway. More than 50% of the earth moving is complete and later this month we will begin construction of our two main building structures—Strachan Gate, our main performance space, adjacent to Strachan Bridge, and the Skating Shed, which will house the skate trail operations, adjacent to the Fort York Visitor Centre. The contract to build the skate trail has been awarded and we are working hard to make sure that construction is on track for our projected opening for the 2017-2018 winter season.
We are excited to share the news that we have been given access to the north section of the car park at 800 Fleet, which we will turn into a green amphitheatre. A number of city departments came together to make this happen and we are immensely grateful to them all. This is a fantastic addition to the range of facilities at The Bentway and a great opportunity for additional outdoor programming.
We are also delighted that "WATERTABLE", the public artwork by Lisa Steele and Kim Tomczak, will be reinstalled in the fall of this year. The original installation—in 2009—provided a new way to look at the underside of the Gardiner Expressway and helped catalyse the thinking behind The Bentway. It inspires us to look at spaces that have traditionally been overlooked from a new perspective. This is our aim at The Bentway and we are very happy to see this work come to life again.
I'd like to encourage you to come and see us in our temporary offices at the Fort York Visitor Centre or reach out to us at This email address is being protected from spambots. You need JavaScript enabled to view it.. And please sign up for our email newsletter to get updates on opportunities and events.
Julian Sleath was appointed CEO at The Bentway effective 27 March 2017.
Managers Report (Spring 2017)
by David O'Hara, Site Manager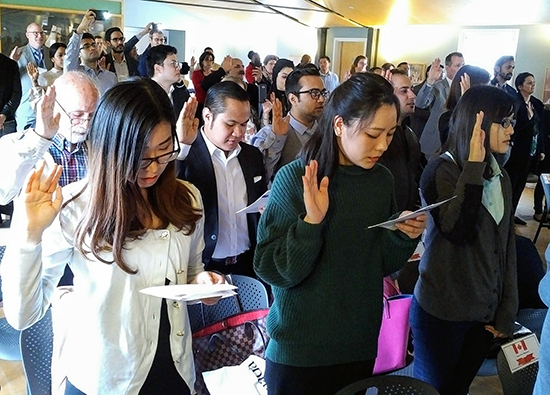 Candidates for Canadian Citizenship at Fort York, 19 April 2017. Photo by Lambrina Nikolaou
The first half of 2017 has been busy at Fort York. As part of the city's Canada 150 TO Canada with Love program (and in partnership with the Ontario150 program) Fort York hosted Vimy 100 Toronto on April 8 - 9 with close to 5000 people visiting throughout the weekend to participate in a variety of free programs. The Sunday included a Service of
Remembrance with Canadian Armed Forces to mark the 100th anniversary of the Battle of Vimy Ridge. Attending were the Mayor, Lieutenant Governor, Premier, Chief Stacey LaForme, Consuls General of France, Germany, and Great Britain, and many more.
On April 19 Fort York hosted one of its two annual citizenship ceremonies in partnership with the Institute for Canadian Citizenship. There were forty-two new citizens and approximately eighty overall participants in the round table discussions, ceremony, and lunch reception. MP Adam Vaughan was a guest speaker as well as Chief Stacey LaForme from Mississaugas of the New Credit First Nation.
Our Battle of York weekend, April 22 - 23, included themed tours, cooking demonstrations, and kids' activities. The regimental colours of the 3rd Regiment of York Militia were back on display in the special collections 'Vault' within the Visitor Centre. This is one of the two colours (flags) of a local militia unit that defended the Town of York during the Battle of York that were generously donated to the City of Toronto by St. James' Cathedral for display at Fort York. Richard Haynes, our site coordinator, conducted two Battle of York walking tours focussing on the combatants as well as the course and outcome of the battle while visitors enjoyed the new War of 1812 exhibits, and in particular the Battle of York immersive experience. We hope more people come down to see these new features in the coming months.
Moving into May we partnered with the Scotiabank CONTACT Photography Festival and hosted an installation by Governor General Award-winning photographer Shelley Niro (Mohawk, Turtle Clan). Titled Battlefield of My Ancestors, the series documents the historic battlefields that hold significance for Niro's people. Sixteen images were displayed at Fort York with additional examples at Ryerson for the mmonth of May, and as part of the Indigenous Arts Festival. We were pleased to see Shelley Niro presented with the 2017 Scotiabank Photography Award. Congratulations once again and thank you to our partners at CONTACT and at the Ryerson Image Centre. www.scotiabank.com/photoaward
Also in May, more than 3000 people moved through Fort York as part of the 16th annual Meagan's Walk http://www.meaganswalk.com/meaganswalk.com/ and we were pleased to host a group of University of Toronto Museum Studies students who visited our historic kitchen as part of their work on an exhibit which will showcase culinary culture in Canada through the work of women. The exhibit will be coming to the Thomas Fisher Rare Book Library next summer.
On May 20-21, Toronto's Festival of Beer held one of its smaller Spring Sessions, with over 5000 attending and Mayor John Tory joining in for the opening. Victoria Day weekend was busy with cooking and dance demonstrations, and on Artillery Day and Doors Open (May 27 - 28) we partnered with the Department of National Defence, 7th Toronto Regiment Royal Canadian Artillery. On the Saturday of Doors Open re-enactors of the 22nd United States Infantry Regiment and students from Norwood District High School dressed in the uniforms of the 16th US Infantry animated the site and on Sunday members of the Incorporated Militia of Upper Canada and Glengarry Light Infantry re-enactment units performed similar demonstrations throughout the day.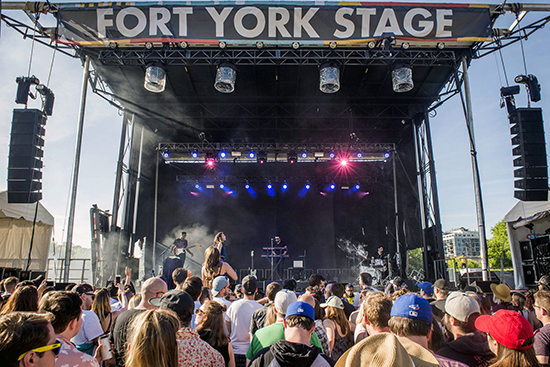 Field Trip, June 3-4, 2017On June 3 and 4 Fort York hosted the annual Arts & Crafts Field Trip for the fifth year. Although final figures aren't in, it's expected that attendance topped 12,000. Field Trip bills itself as a celebration of Toronto, of community, and above all else, of the collaborative spirit. http://fieldtriplife.com/experience/
Taste of Toronto landed on site from June 15 - 18 and we then moved into our five-day Indigenous Arts Festival which launched on National Aboriginal Day. The National Aboriginal Day programming was done in partnership with APTN and with the financial support of the Government of Canada, Public Service Alliance of Canada (PSAC), Investors Group, and TD Bank Group.
The Indigenous Arts Festival showcased performances by more than thirty indigenous artists from across Canada. It featured traditional and contemporary music, dance, theatre, storytelling, visual arts, crafts, and food. There were performances by Crystal Shawanda, Wayne Lavallee, and Nick Sherman. The Na-Me-Res Powwow returned on the Saturday as part of the festival.
A huge thank you goes out to everyone involved in making this five-day festival such a success; among others, this includes our staff team led by Kristine Williamson, our partners at APTN, the Mississaugas of the New Credit First Nation, and Na-Me-Res, as well as TD Bank, the Government of Canada, and Tim Hortons for the financial support.
On the construction front, we're still very much surrounded. Work on The Bentway continues across the frontage of Fort York (http://www.thebentway.ca/about/) while construction of Garrison Crossing, the bicycle/pedestrian bridge, goes forward on the Common. We expect most of this work will be complete by year-end so we'll be much easier to find in 2018.
The Bentway Update
by Kasia Gladki
These are exciting times for The Bentway. First, on March 6, Waterfront Toronto's construction manager Kiewit started their work on site. Trailers and fencing were put up as they readied themselves for initial construction–mainly removals and grading–in the coming weeks. Construction will continue through the winter and spring of 2018. Throughout this process access to the Fort York National Historic Site and the Fort York Visitor Centre, as well as events, will be maintained.

Second, The Bentway Conservancy announced that Julian Sleath has been appointed chief executive officer of The Bentway, effective 27 March 2017. A skilled event planner and producer of theatrical and cultural events in Canada and the UK, and an experienced steward of new performing arts venues, Sleath brings more than 35 years of leadership to The Bentway.

As the first full-time hire for this new not-for-profit organization, Sleath will focus on developing the public space, initiating its operations, securing new resources and partnerships, and bringing it to life with a dynamic year-round program of events that will embrace the unique aspiration and vision of The Bentway Conservancy. Sleath says, "Since hearing of the concept, The Bentway has captured my imagination as to what a modern and developing city like Toronto can offer to its communities. The project asks us all to reconsider how we view the Gardiner Expressway and our ongoing relationship with city infrastructure. As construction of the design by Ken Greenberg and PUBLIC WORK moves ahead, our task is to deliver an equally compelling program of events and activities. I wish to take this opportunity not only to thank Judy and Wilmot Matthews, the City of Toronto and Waterfront Toronto for their leadership in this project , but also the many Toronto organizations and individuals who have shown their initiative, vision and commitment to making this project happen."

Sleath leaves his post in Alberta as executive director of performing arts at the Banff Centre, where he worked with an array of national and international artists in theatre, dance, opera, and all genres of music.
It's thrilling to watch this project come to life. We look forward to seeing how construction progresses and what our new CEO has in store.

Your support and feedback are invaluable. We're looking forward to speaking with you soon—in the meantime, sign up for our newsletter, check out our Instagram, visit us on Facebook, and follow us on Twitter. For general inquiries feel free to reach out to This email address is being protected from spambots. You need JavaScript enabled to view it.. Please email This email address is being protected from spambots. You need JavaScript enabled to view it. with any construction-related inquiries.

Kasia Gladki is project co-ordinator, Creative Placemaking Lab, at Artscape.
Manager's Report (winter 2017)
by David O'Hara, Site Manager
It seems each year that we look forward to the next with the hope that our calendar of events might somehow combine with the ongoing world of construction in and around Fort York in a much more manageable way. Unfortunately, it's never been the case.

Our 2017 calendar is a full one with many regular events and programs planned to return and with new and enhanced offerings—many forming a part of the City of Toronto's year-long TO Canada with Love program of celebrations, commemorations, and exhibitions honouring Canada's 150th birthday.

The fort has already hosted our annual Queen Charlotte's Ball and the 10th annual, and sold-out, Mad for Marmalade to begin the year. Our Vimy 100 Toronto event is planned for April 8 and 9, honouring the 100th anniversary of those who fought at Vimy Ridge. On April 8 the public will experience First World War re-enactor displays of infantry, artillery, cavalry, medicine, music, and food alongside Great War themed exhibits and films. On April 9 a military remembrance parade and commemorative service by the Canadian Armed Forces will be followed by the dedication of a Vimy oak tree within Garrison Common. The commemorative service will be attended by the Lieutenant-Governor of Ontario, the Honourable Elizabeth Dowdeswell, and Mayor John Tory. Vimy 100 Toronto is part of the city's TO Canada with Love program. More information on the weekend events is available at toronto.ca/fortevents.

There is a citizenship ceremony planned for April 19 and we'll then move through to Doors Open and other events in May before an extremely busy June. On the heels of the annual Field Trip (http://fieldtriplife.com/) and Taste of Toronto (http://toronto.tastefestivals.com/), mark your calendars and please visit us for National Aboriginal Day and the Indigenous Arts Festival, running from June 21st through to the 25th. Watch for much more to come throughout the remainder of 2017.

We continue to work with The Bentway Conservancy (http://www.thebentway.ca/about/) on the design and implementation of its first phase across the frontage of Fort York National Historic Site and on various programs and events throughout 2017. We were pleased to hear that Julian Sleath was recently appointed chief executive officer of The Bentway. In addition to his extensive background with cultural events and venues across Canada, the UK, and beyond, Julian knows Fort York as a former program manager for cultural events with the City of Toronto, and is familiar with its significance and the many years of work that have gone into getting the site to where it is today. We look forward to working with Julian and The Bentway Conservancy to build on what we've accomplished already by bringing a new and dynamic year-round program of events to The Bentway and Fort York. Construction of The Bentway throughout 2017 will impact several areas of Fort York. This, combined with the construction of the Garrison Crossing (see page 10), scheduled to be complete by this fall, will complicate the year.

One of the projects next on the to-do list at Fort York involves the north perimeter of the site between Bathurst Street and Garrison Crossing. Working with staff in the city's Parks, Forestry and Recreation Division, a trail will be constructed connecting CityPlace and lands east of Bathurst Street with Fort York lands under Bathurst and to the west. The multi-purpose trail will extend west at the lower rail corridor level, before climbing the slope to connect with the landing point of the new bridge. This trail follows the traces of the original Garrison Creek ravine system and the original ramparts of Fort York, providing a unique ravine-like experience in the core of the city. Opportunities exist to interpret the multi-layered history of the site, to remove invasive plant species and plant native species, to provide better access to the community gardens, and to find a more secure location for the beehives currently on site. News of this project will be reported as it proceeds.

Vandalism of the beehives at Fort York late last year drew significant attention to the fact that our program offerings go beyond military history. Toronto Honeys, who manage beehives at various locations around the city, have been working at Fort York since the spring of 2012. The bees thrived here while contributing to pollination in and around the fort. What began as two colonies had grown to seven, producing approximately 550 lb of honey in 2016. This honey, which captures the distinct taste of the local flowers, is incorporated into several of the recipes used in our historic kitchen and is available for sale in the museum store. The vandalism to the hives has left Toronto Honeys and our Fort York bees in a very unfortunate situation. Should you wish to contribute towards the rebuild, please donate to the Friends of Fort York in trust for the Toronto Honeys. Tax receipts will be issued for gifts in excess of $25. Cheques may be mailed to The Friends at 260 Adelaide St. E., Box 183, Toronto, M5A 1N1.
On the staff front, we're pleased to announce that Erica Roppolo has joined the Fort York team as our acting museum outreach officer. Erica has been with Museums & Heritage Services as a support assistant and as a museum attendant for over two years, and has experience working at six City of Toronto Historic Sites. Prior to joining M&HS, Erica had a number of internships and contracts with City of Toronto special events, including Nuit Blanche, Luminato Festival and TIFF.