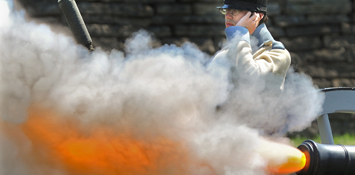 Rent Our Facilities


Toronto's Best Kept Secret
Set on a unique setting in the heart of downtown Toronto, this location offers an excellent view of modern downtown from the city's oldest historic site. Fort York is excellent for commercial photography, film shoots, receptions, gala dinners, tented or large events and more.
Cannon firing is optional, but a blast is guaranteed!
Details:
Indoor spaces capable of holding up to 250 for a cocktail reception (140 seated)
Over 25 acres of outdoor green space including the historic Fort and Garrison Common
Able to accommodate up to 5,000 outdoor attendees in the historic fort, and up to 10,000 in the Garrison Common
Large outdoor events: the Fort may be rented on a buy-out basis for exclusivity. Please contact us for more details.
Fort York has an excellent list of recommended caterers including some of the best companies in Toronto. Please contact us for the complete list. Landmark fees apply.
Call us today to inquire about rates and book a tour. Our on-site event specialist will be happy to answer all of your questions and work with you to create a memorable experience for you and your guests.
Fort York National Historic Site, 250 Fort York Blvd., Toronto.
Contact us at 416-392 6907, or This email address is being protected from spambots. You need JavaScript enabled to view it.