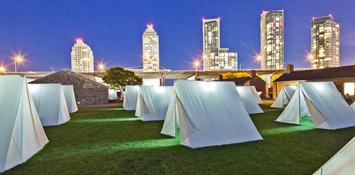 Schooners to Skyscrapers: The History of the Fort York Neighbourhood
Saturday, August 10, 10:30 am to 12 pm
Sunday, August 11, 11 am to 12:30 pm

Join historical interpreter Samantha Horne on this walking tour showcasing the landmarks of Fort York's immediate neighbourhood. Find the architectural vestiges of bygone eras of warfare, industry and sport that remind us not only of the history, but also the ongoing development, of the bustling Fort York Neighbourhood. Sign up for the tour here.

FREE, including a complimentary admission to Fort York National Historic Site after the tour.
After the War (Temporary Exhibition)
August 15 to September 2, 10 am to 5 pm
September 3 to 30, Weekdays 10 am to 4 pm, Weekends 10 am to 5 pm
The Canadian Centre for the Great War's new travelling exhibition After the War: Coming Home and Fitting in at the End of the Great War looks at the efforts made by Canadian society to support over 600,000 former members of the armed forces as they met the challenges of reintegrating into a society that, in many ways, only resembled the one they had left in 1914.
From Pollinators to Produce: Exploring a Heritage Kitchen Garden
Sunday, August 18 Tours at 11 am, 1 pm and 3 pm

This walking tour of Fort York's historic kitchen garden includes a honey-tasting from the beehives operated at the fort by Toronto Honeys. Along the way, you will learn about some of the changes to the natural environment of the fort – changes to Toronto's founding landscape – from 1812 to the present.
FREE with regular admission.
Campaign Cooking
Sunday, August 25, 10 am to 4:30 pm
It's often said that an army marches on its stomach, and this was known also by the soldiers who fought in the War of 1812. In this unique program, watch ongoing demonstrations of campaign cooking and sample recipes made using historic cookbooks.
FREE with regular admission.