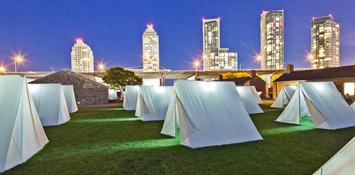 Museum of the Moon at The Bentway
September 10 to 15, Times Vary
FREE

From September 10 to 15, The Bentway brings the Moon under the Gardiner with a presentation of Museum of the Moon – a seven-metre wide touring sculptural work by UK artist Luke Jerram, which fuses lunar imagery to bring the moon's surface to life on earth. The installation allows visitors to experience the moon up-close and personal, reminding us of the moon's influence on our daily lives despite urban barriers like light pollution and high-rise density. Visitors will be able to further reflect on the moon through moon gazing and moonlight meditation, turning The Bentway into an open air planetarium.

Other activities taking place throughout the moon-filled week include free astronomy talks and National Film Board of Canada short films presented in partner-ship with Fort York National Historic Site and the Friends of Fort York. These activities will take place in the Fort York Visitor Centre.

Please see www.bentway.ca for a full schedule of events.
September 11, 13 & 15
6:30 pm – 11:00 pm: Universe & Moon Man screenings, co-presented with Fort York National Historic Site
Tuesday, September 10
6:30 pm – 7:30 pm: Lunar exploration: past, present, and future talk with Sara Mazrouei, co-presented with Fort York National Historic Site
7:30 pm – 11:00 pm: Universe & Moon Man screenings, co-presented with Fort York National Historic Site
Thursday, September 12
6:30 pm – 7:30 pm: The Legacy of Toronto's Magnetic Observatory with Kirsten Vanstone, Executive Director of RCIScience. Co-presented with Fort York National Historic Site & the Friends of Fort York
Description:
These days, many of us are detached from the nature's rhythms, particularly in urban settings. For centuries, the sky provided a means to tell time and to navigate. Now, we use clocks and GPS signals. How did we get to this point? Hear the story of Toronto's great Magnetic Observatory, once housed at Fort York. Built to help sailors better navigate the globe, the Observatory's legacy includes a global time keeping system and cemented Canada's position as a leader in astronomy and space science.
Kirsten Vanstone:
Kirsten is Executive Director of the Royal Canadian Institute (RCIScience). In this role, she is working to increase the impact of Canada's oldest, public scientific society on Canada's science culture. Kirsten has spent nearly 30-years in science engagement, starting at the Ontario Science Centre, where she was a Host, Educator and Staff Astronomer. She spent time as the California Academy of Sciences' Astronomy Educator and teaching astronomy and culture at the ROM. In addition to museum and non-profit work, Kirsten has done television script research and writing and taught general interest courses on astronomy. Kirsten volunteers with the Royal Astronomical Society of Canada (RASC) and has received awards for her astronomy outreach from the Astronomical Association of Northern California and the RASC Toronto Centre.
7:30 pm – 11:00 pm: Universe & Moon Man screenings, co-presented with Fort York National Historic Site
Butter Tart Workshop
Thursday, September 12, 6:30 pm to 9:30 pm

This hands-on cooking workshop explores the history of the iconic Canadian butter tart. Using historic Great War recipes, participants will learn how to make the perfect pastry and filling for delicious tarts every time. Light refreshments, a recipe package, and tarts to take home are included.

Pre-registration is required.
A City Mobilizes: The Second World War in Toronto
September 21 and 22, 10 am to 5 pm

Canada declared war in September of 1939, galvanizing the city's military, civilian, industrial and commercial interests. Connecting Torontonians to the sacrifice of Canadians in the war, this event marks the 80th anniversary of mobilization, noting especially the contributions of women, Indigenous peoples and the Home Front. The 80th anniversary marks a great chance to pay homage to those veterans who are still with us. There will be ongoing presentations of material culture, food and dance as well as displays of period vehicles, uniforms and equipment throughout the weekend.

FREE admission all weekend
SickKids GetLoud
Saturday, September 28, 10 am to 4 pm

Make some serious noise for SickKids! GetLoud is a march capped by a festival. It's families, friends, colleagues and supporters rallying for SickKids. We're building a new Hospital for Sick Children, and it's going to take all of us. Register with SickKids Foundation.

Please note: This is a third-party event. Fort York will be open as usual, 10 am to 5 pm, regular admission.