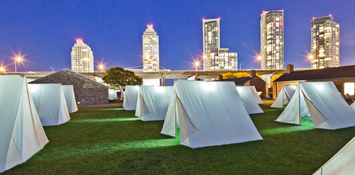 Historic Cooking Classes in the 1826 Officers' Mess Kitchen
Sun, October 23, 10 to 3:30 pm
Hannah Glasse was the best known British Cookery writer of the 18th century. Using recipes from The Art of Cookery Made Plain and Easy (1747) and the The Complete Confectioner (1760) you will learn to create delicious historical dishes using Hannah's recipes.
$75 + HST. Lunch and recipe package included.
Pre-registration and payment required.
To register please call 416-392-7484.
Fort York after Dark: Lantern Tours
Wed. Thurs. Fri. October 26, 27, 28, 7:30 to 9:30 pm
Tour the grounds of Fort York at night to hear stories about this national treasure and the history that surrounds it, from the haunted lighthouse to the bloody Battle of York. The tour will also visit two military cemeteries. This event is not recommended for children under 8 yrs. Complimentary refreshments.
$12.50 + HST. Pre-registration is required.
Please call 416-392-7484 for more information or to pre-register.
Mince Pies
Sun, November 27, 10 to 3:30 pm
Learn how to make the pastry and rich filling for these traditional fruit and meat-based pies. Sample mince pies to take home are included.
$75.00 + tax, preregistration required.
Remembrance Day Commemoration
Fri. November 11, 10:45 am
Fort York National Historic Site and the Toronto Municipal Chapter IODE (Imperial Order Daughters of the Empire) are proud to present one of this city's most evocative Remembrance Day Services on Garrison Common. Commencing at 10:45 am from the west gate of Fort York, a processional, led by period uniformed military staff and standard bearers of the IODE, will make its way to the Strachan Avenue Military Cemetery, where the public will be gathered. There, at the eleventh hour, all soldiers of the Toronto Garrison who fell in the War of 1812, the Rebellion Crises, the Crimean War, Northwest Rebellion, South African (Boer) War, the two World Wars, and recent conflicts around the globe will be remembered and honoured.