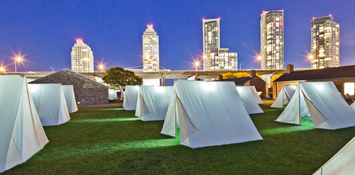 Queen Charlotte's Birthday Ball (2017)
Sat. January 21, 1 to 10 pm
Queen Charlotte's Birthday Ball recalls a significant event in Toronto's history, a Ball organized by the officers of the Garrison at York (Fort York) on 20 January 1817.
Our event is a Ball recreating an early 19th century social gathering. It offers instruction in period dance, a guest lecturer, an extensively researched and authentically prepared Georgian supper, and concludes with an evening of English Country Dancing. This year's dance callers are Tom and Toni Tumbusch.
Costumes welcome. Pre-registration required 416-392-7484.
Tickets are $100 plus tax.
Mad for Marmalade (2017)
Sat. February 18, 10 am to 4 pm
Join Fort York National Historic Site in partnership with the Culinary Historians of Canada for our tenth annual celebration of marmalade and all things citrus. Enjoy a citrus-themed workshop, lunch, guest speakers, tastings, and marketplace, or enter the Marmalade Competition.
Pre-registration required 416-392-7484.
For more information please visit www.culinaryhistorians.ca
Early bird tickets $65 plus tax are available until February 6, $75 plus tax afterwards.
Family Day at Fort York
Mon. February 20, 10 am to 4 pm
Explore the history of Toronto and Fort York. Tour the historic kitchen and sample baking from the hearth. Hot chocolate and a roaring fire will make this visit memorable. Kids can try an 1812 drill class, officers' sword drill, and some old-fashioned games, as well as a fun-filled activity book.
Regular admission.