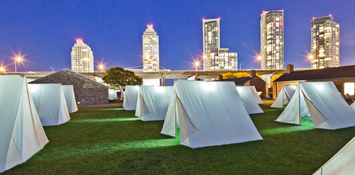 Frost Fair (2016)
Sat. December 3, 10 am to 4 pm
Celebrate the festive season. Stroll through historic buildings where merchants will be selling heritage inspired products and reproduction pieces. Shop with local artisans to find unique holiday gifts for family and friends. Enjoy many activities throughout the day, including children's drill workshop, military exercises, demonstrations by the Culinary Historians of Canada, and printing a souvenir on the Mackenzie House 1845 proof press.
Regular admission.
The Cook's Apprentice (An historical cooking class for kids only!)
Sat. December 10, 1:00 pm to 3:30 pm
Learn to bake cakes, biscuits and confections in the Officers' historic kitchen. Recipes include iced Queen Cakes, Hard Gingerbread, Peppermint Drops and a delicious breakfast griddle cake for the holidays.
$30 + HST. Recipe package and tastes to take home.
For kids 8 – 12 yrs.
Pre-registration and payment required. To register please call 416 392 7484.
Gingerbread Make and Bake (2016)
Extra fun for kids at Fort York (ages 4 and up)
Tues. to Sat. December 27 to 31, 11 am and 2 pm
While you enjoy a tour of Fort York your kids can join the cooks in the Officers' Mess kitchen to create traditional gingerbread cookies. In this hands-on workshop, kids will use period cooking utensils and tools to sift flour, crush cinnamon, cloves, or allspice, pound sugar and grate nutmeg and ginger as they prepare an 1800s gingerbread recipe. Samples may be taken home–if they last that long! Workshop is limited to 15 participants.
Included with regular admission, sign up in the Museum Store when you arrive.