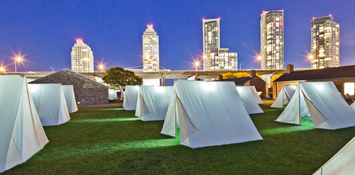 VeganFest (2017) - Ticketed event
Sat. August 19
Entering its third festival season, VeganFest brings vegan comfort food and craft brews back to Chicago and Toronto for another round.
A TO Canada with Love Event: Citizenship & Reaffirmation Ceremony - Free admission
Fri. September 15
Join Fort York National Historic Site and the Institute for Canadian Citizenship as they host a special Canada 150 citizenship ceremony. Following the service, Canadians from all walks of life can take the oath of citizenship in a public reaffirmation ceremony.
A TO Canada with Love Event: On Common Ground (2017) - Free admission
Sat. September 16 and Sun. September 17
An engaging mix of culturally diverse music, dance, storytelling, theatre, visual arts, crafts, local food, and family friendly activities. This event is presented as part of the City of Toronto's yearlong program of celebrations, commemorations, and exhibitions honouring Canada's 150th birthday.
Invictus Games Toronto - Ticketed event
Thurs. September 28 and Fri. September 29
Toronto will host the 2017 Invictus Games from September 23 to 30, with Fort York hosting the archery training and competition.