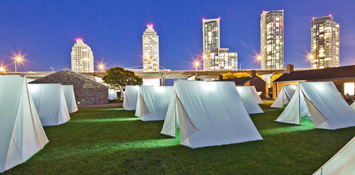 Further Event Information & Latest Updates
For further information and last minute event updates, please check toronto.ca

Frost Fair (2020)
Friday, January 17 & Saturday January 18
Friday, 10:00 am to 9:00 pm & Saturday, 10:00 am to 5:00 pm
Fort York National Historic Site and The Bentway
For a memorable outing, discover the winter beauty of Fort York's 1812-era buildings blanketed in snow. In the evening, view the Fort in a "new" light during a special lantern tour, which provides a glimpse of garrison life after dark. Tour a selection of buildings with our interpretive staff using 19th century lighting, and sample historic treats and drinks from the 1826 kitchen hearth.
Don't forget to bring your skates to glide along The Bentway Skate Trail, where you will be joined by a Redcoat or two! Warm-up in the Fort York Visitor Centre and grab a treat by local food vendors after your skate.
FREE
DesignTO at Fort York: PLACEHOLDERS by Daniel Daam-Ros
Friday, Jan 17 to Sunday, Jan 26

Art and design lovers should check out this new visual art exhibit by Daniel Daam-Rossi, as part of DesignTO – Canada's largest celebration of design, now in its tenth year. PLACEHOLDERS is a series that explores how objects provide support, both in space and in thought, becoming a scaffold upon which meaning is built. The series in the Fort York Visitor Centre is one of more than 100 exhibits and events occurring Jan. 17-26 during DesignTO.
Free / Regular Hours
Hungry for Comfort: Celebrating our Food History (2020)
Sunday, February 9, 8:30 am to 4:30 pm

Join fellow food enthusiasts to explore how different peoples survived and thrived in Canada's bitter winter. This year, the spotlight is on the culinary stories of the Jewish community. There will be speakers, demonstrations and workshops as well as tastings and a catered lunch of Jewish recipes. Coinciding with this Winterlicious event is our Baking & Preserving Competition: anyone can enter their favourite recipe in any of four categories. The cost is $75 plus HST (early bird price $65 plus HST until January 26).

Advanced tickets required; get them at fortyork.streamintickets.com.