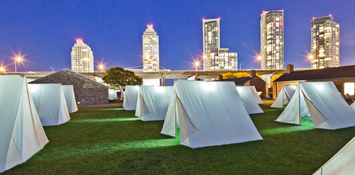 The Summer at Fort York
Daily throughout July and August
10 a.m. to 5 p.m.
Thrill to the booming of the cannon, the firing of muskets, the vibrant colours of the uniformed guard and the lively music of fife and drum. These are the sights and sounds of Fort York this summer. Visitors will enjoy hourly demonstrations of military music, drill, musketry and artillery performed by students representing the Canadian Fencible Regiment that was garrisoned at the fort at the end of the War of 1812. Highlights include musket and cannon firings, and the music of the Fort York Drums (a fife & drum corps).
Program varies daily. Call for specific details. Regular admission.
TURF (Toronto Urban Roots Festival)
Garrison Common
Fri. to Sun. September 16 to 18
Closing out a jam-packed summer of music festivals in the city, this year's lineup TBA.
http://torontourbanrootsfest.com/
Great War Cooking Class
Thurs. September 22, 6:30 to 9 pm
Join us in the 1826 Officers' Mess kitchen where participants will prepare (and sample) a variety of delicious Great War dishes.
$75 plus tax. Pre-payment required (to cover materials and ingredients).
For class information please call: Bridget Wranich at 416 392-7455.
To register, call: 416 392-7484.
Bicycle Tour: The Forts of Toronto
Sat. September 24, 11 am to 1 pm
Moderate difficulty. The tour begins at Lambton House (4066 Old Dundas Street) at the edge of the Carrying Place trail. From there, we will ride to Teiagon, the site of the 17th-century Seneca Village and the Magasin Royal of 1720. Following the Humber Bicycle Trails we will stop and explore the sites of Toronto's second French fort. Continuing along the Martin Goodman Trail we will go to where Fort Rouillé, the last French Fort, once stood. The tour will end at Fort York, a British fort and the place where Toronto (then York) was founded.
Tour cost - $25.00