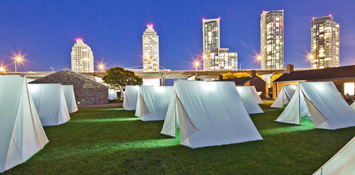 Further Event Information & Latest Updates
For further information and last minute event updates, please check toronto.ca

Summer at Fort York (2019)
July and August, every day, 10 am to 5 pm
The Fort York Summer Guard have taken up their posts. Visitors will enjoy hourly demonstrations of military music, drill, musketry and artillery, all performed by students in uniforms of the Canadian Regiment of Fencible Infantry. These were the soldiers who garrisoned the fort at the end of the War of 1812. Highlights throughout the day include cannon firing, the concerts of the fifes and drums – and seeing what's cooking in the regiment's original, stone-hearth kitchen. Program varies daily, so please call for details.
Regular admission (tax included): Adults $14, Seniors $10, Youth $8 (13-18), Children $6 (6-12), Toddlers (5 and under) free.
The Rexall OneWalk to Conquer Cancer (2019)
Saturday, September 7, 10 am to 6 pm
Thousands of walkers will take to the streets of Toronto and challenge themselves to raise vital funds for the Princess Margaret Cancer Centre, one of the top five cancer research organizations in the world. Sign up to walk here.

Please note: This is a third-party event. Fort York open as usual, 10 am to 5 pm, regular admission.
War Footing: Toronto and the Second World War
Sunday, September 8, 11 am
To commemorate the 80th anniversary of mobilization, this walking tour will explore some of Toronto's most popular new neighbourhoods and explain how these areas served a very different purpose during the Second World War. Where many Torontonians now live was once the very heart of Toronto's war industry, whose vast output supported Canada's oversized involvement in the conflict.

FREE, with complimentary admission to Fort York after the tour.