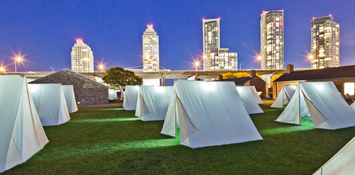 The Summer at Fort York
Daily throughout July
10 a.m. to 5 p.m.
Thrill to the booming of the cannon, the firing of muskets, the vibrant colours of the uniformed guard and the lively music of fife and drum. These are the sights and sounds of Fort York this summer. Visitors will enjoy hourly demonstrations of military music, drill, musketry and artillery performed by students representing the Canadian Fencible Regiment that was garrisoned at the fort at the end of the War of 1812. Highlights include musket and cannon firings, and the music of the Fort York Drums (a fife & drum corps).
Program varies daily. Call for specific details. Regular admission.
Simcoe Day @ Fort York
Mon. August 1, 10 am to 5 pm
Fort York celebrates Lieutenant-governor Simcoe, who founded the town of York (Toronto) in 1793 and was the first lieutenant-governor of Upper Canada (Ontario). Come learn about the birthplace of Toronto and thrill to the sounds of musketry, cannons, and the fife and drum.
Free admission
TIME (Toronto Independent Music Experience)
Toronto Vegan Food & Drink Festival
Garrison Common
Sat. & Sun. August 13 & 14
Toronto's first-ever all vegan festival catering to a 19+ crowd. Attendees can indulge and sample the very best in comfort food, craft brews, and wine and spirits from a variety of reputable vegan vendors.
http://www.veganfestto.com/