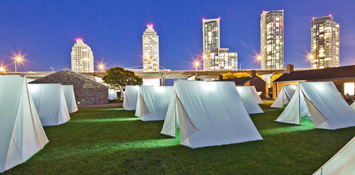 Further Event Information & Latest Updates
For further information and last minute event updates, please check toronto.ca

Summer at Fort York (2019)
July and August, every day, 10 am to 5 pm
The Fort York Summer Guard have taken up their posts. Visitors will enjoy hourly demonstrations of military music, drill, musketry and artillery, all performed by students in uniforms of the Canadian Regiment of Fencible Infantry. These were the soldiers who garrisoned the fort at the end of the War of 1812. Highlights throughout the day include cannon firing, the concerts of the fifes and drums – and seeing what's cooking in the regiment's original, stone-hearth kitchen. Program varies daily, so please call for details.
Regular admission (tax included): Adults $14, Seniors $10, Youth $8 (13-18), Children $6 (6-12), Toddlers (5 and under) free.
Cool Tastings: Heritage Ice Cream
Thursday, July 11, 6:30 pm to 8:30 pm

Enjoy a delicious ice cream demonstration and tasting experience using only historical recipes from Fort York's own cookbooks, Setting a Fine Table and Recipes for Victory. Sample flavours including Ginger, Coffee, Fresh Strawberry, Royal, Vanilla and Parmesan Cheese. Fill out a ballot to pick your favourite and enjoy a short tour of the authentic Officers' Mess and kitchen. This event is part of Toronto's Table, a new culinary program at Toronto History Museums.
Tickets are $20 plus HST.
All Day I Dream of Toronto Magic
Saturday, July 13, 2 pm to 11 pm

This is a very special afternoon of music at Fort York. All Day I Dream's electronic magical vibes enchanted everyone who attended last year's party and this year promises to continue inspiring the smiles and hearts of all who dream. Learn more about it here.

Please note: This is a third-party event. Fort York will be open as usual, 10 am to 5 pm, regular admission.