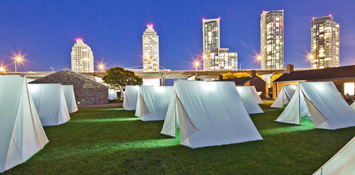 Frost Fair (2018)
Saturday, December 1, 10 am to 5 pm

Have some holiday fun with the whole family at historic Fort York. Shop for unique gifts made by local artisans, including jewellery, heritage-inspired reproductions and holiday greenery. Enjoy military and musical demonstrations alongside children's drill sessions, games, crafts and dress-up. Print your own Frost Fair souvenir on a Mackenzie House press. Visit our Volunteer Historic Cooks to sample period recipes and stop by the Heritage Café for lunch.

Admission is free.
The Cook's Apprentice (2018)
Saturday, December 8, 1 pm to 3:30 pm – Ticketed Event

Kids aged 8 to 12 learn to bake traditional cakes, biscuits and confections in the historic kitchen of the officers' mess. Recipes include iced Queen Cakes, Gingerbread, Peppermint Drops and a delicious breakfast griddle cake for the holidays. There will be a recipe package and samples to take home.

Advance tickets $30 + tax required.
See http://fortyork.streamintickets.com
Fort York remains open; regular admission applies.
Gingerbread Make & Bake (2018)
December 27 to 31, 11 am and 2 pm

In this hands-on workshop, kids (aged 4 and up) will use period cooking utensils and tools to sift flour, crush cinnamon, cloves or allspice, pound sugar, and grate nutmeg and ginger as they prepare an 1800s gingerbread recipe. Samples can be taken home – if they last that long! Each workshop is limited to 15 children. Sign up in the Museum Store when you arrive.

The only cost is regular admission to Fort York.
Further Event Information & Latest Updates
For further information and last minute event updates, please check toronto.ca