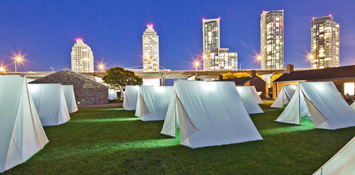 Beerlicious Spring Sessions – Ticketed Event (2018)
Garrison Common
Saturday, May 19 and Sunday, May 20, 12 pm to 7 pm
The fifth annual Spring Sessions of Toronto's Festival of Beer returns to Garrison Common on the May long weekend. Featuring craft brews, great food, games and live music, this is a great way to celebrate May Two-Four! https://beerfestival.ca/spring/
Please note: this is a third-party event. Fort York will be open to the public from 10 am to 5 pm. Regular admission applies.
Battle of York Local Walking Tours
Sunday, April 29, 11 am and 2 pm
In addition to Walking in Their Footsteps and scheduled demonstrations and activities at the Fort, there will also be a local walking tour focusing on the Battle of York. This tour will begin at the canteen/museum store at Fort York, using the Fort, Garrison Common and nearby areas of the original shoreline to highlight the battle that took place here 205 years ago.
Regular admission applies.
The French and British Forts of Toronto – A Bicycle Tour (2018)
Saturday, May 5, 11 am to 1 pm
Free Admission
Bicycling is a unique and exciting way to view Toronto's early history. Fort York, in partnership with Jane's Walk and Heritage York's Lambton House, hosts this event, beginning at Lambton House, at the edge of the Toronto Passage (or Toronto Carrying Place) trail. From there, we will ride to Teiagon, the site of the 17th-century Seneca village and the Magasin royal of 1720. Following the Humber Bicycle Trails south, we will stop and explore the site of Toronto's second small French fort. Continuing along the Martin Goodman Trail we will go to where Fort Rouillé, the last French Fort, once stood. The tour will end at Fort York, a British fort and the place where urban Toronto (then York) was founded. The bicycle tour is free and includes free admission to Fort York National Historic Site.
The tour starts at Lambton House, 4066 Old Dundas St (416 767-5472).
Meagan's Walk (2018)
Saturday, May 12, 8 am to 10 am
Meagan's Walk: Creating a Circle of Hope was founded by Denise Bebenek in 2001, the year she lost her cherished 5-year-old daughter Meagan to a cancerous brain tumour. The signature event of Meagan's Walk happens annually on the Saturday of Mother's Day weekend when participants of all abilities take part in the 5 km walk, which culminates with thousands of people joining hands to encircle the Hospital for Sick Children in one gigantic hug. The kickoff to Meagan's Walk will once again happen within the walls of Fort York. http://www.meaganswalk.com/
Please note: this is a third-party event. Fort York will be open to the public from 10 am to 5 pm. Regular admission applies.