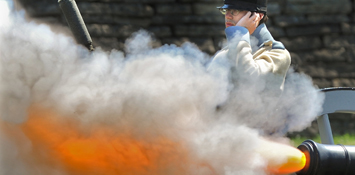 Hours, Rates, & Admission

Fort York National Historic Site Notice!
All City-operated museums are closed and all interior and exterior tours are suspended. Please stay up-to-date on all COVID-19 guidance and changes to City services.
Hours
January 2 – May 23, Weekdays: 10:00 am – 4:00 pm Weekends: 10:00 am – 5:00 pm
May 24 (Victoria Day) – September 5: 10:00 am – 5:00 pm daily
Sept. 6 – January 1, Weekdays: 10:00 am – 4:00 pm Weekends: 10:00 am – 5:00 pm
Days of Operation: Historic Fort York is open year round, closed only on Good Friday, Christmas Day (Dec. 25), Boxing Day (Dec. 26) and New Year's Day (Jan. 1).

Rates and Admission
(all prices include taxess)
Adults: $12.99 + HST
Seniors (65+): $8.85 + HST
Youth (13–18 yrs.): $7.08 + HST
Children (6–12 yrs.): $5.31 + HST
Children (5 and under): FREE
Groups of 10 or more: Please contact fort staff at 416-392-6907.

Special Events and pre-registered activities are priced separately.
All prices are in Canadian dollars.
Located at the entrance of the West Gate, the Canteen and Museum Store is the first building visitors see as they pass through the west wall. Visitors must enter the Canteen Museum Store to pay admissions and receive further information regarding exhibits and tours. The Canteen Museum Store also offers a variety of other services including refreshments, educational materials, souvenirs, and gifts.
Visitor Information
If you have specific questions or concerns, please contact Fort York National Historic Site in advance of your visit at: 416-392-6907, daily 10:00 am – 4:00 pm or email Fort York at This email address is being protected from spambots. You need JavaScript enabled to view it..

Groups
Group tours and school groups are always welcome at Fort York. For further information to book your tour, please call 416-392-6907.