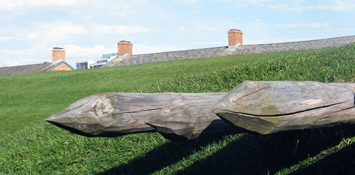 Historical Essays
In many ways, the history of Fort York is the story of Toronto. This page brings together articles and writings of some of Toronto's most respected historians on
the subject of Fort York. Browse the articles by clicking on the links below.
Fort York Cemeteries
Strachan Avenue Military Burying Ground, Stephen A. Otto
The History of These Graves, Michael J. Rudman
Toronto Defences
On the Many Sketches of Toronto Blockhouses, Stephen A. Otto
An American Spy's Report on Fort York, 1840, Edited by Carl Benn
Regiments and Corps at Fort York (ca. 2000), Compiled by David Spittal
The Regiments Contact Report (2006), Douglas Dodds
The Blockhouses of Toronto: A Material History Study, Carl Benn

Miscellaneous
The fort will endure, it's the city we have to worry about, John Bentley Mays
Defending Fort York in the 20th Century, Stephen A. Otto
Loyal and Patriotic Society Famous Medal, Carl Benn


---

Some of these documents are published in PDF format which requires Adobe Acrobat to read.
If you do not have a copy of Acrobat, simply click on the image below to download Acrobat Reader.