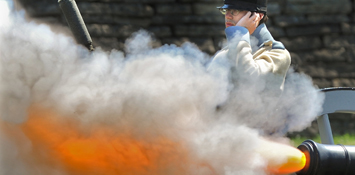 Plan Your Visit

Fort York National Historic Site Notice!
All City-operated museums are closed and all interior and exterior tours are suspended. Please stay up-to-date on all COVID-19 guidance and changes to City services.

Fall/Winter/Spring (September – June)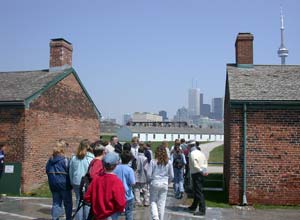 Fort York is open year round, and visitors are welcome at all times. This time of year, the fort is very busy with special programmes for booked groups. These programs last from one hour to two days, and are designed for students from kindergarten to grade twelve. Education programmes provide a fun and exciting way for students to learn about their nation's history. For further information call the fort at 416-392-6907.
The special event highlight for the winter season is the March Break programme. Watch the Events section for further information and more exciting events to come.
Summer Months (July/August)
Each summer the fort comes alive with activity. There is something for everyone, from the enthusiastic history buff to a family on an afternoon outing. Fort York is a great value for visitors looking to have a good time and learn something about Toronto's rich history. Some of the summer highlights include:
Guided tours highlighting the lives of soldiers and officers at Fort York
Fort York Guard demonstrations every hour on the half hour
Cooking demonstrations (and tasting)
Museum exhibits
The daily summer schedule (below) may change from time to time due to inclement weather or other circumstances. Please call ahead at 416-392-6907 to ensure that scheduled activities will occur on the day of your visit.
Don't miss out on the summer's fantastic special events including Victoria Day, Canada Day, and Simcoe Day. For more information on these and other events check the
Events
section of this site.

Visitor Information
If you have specific questions or concerns, please contact Fort York National Historic Site in advance of your visit at: 416-392-6907, daily 10:00 am – 4:00 pm or email Fort York at This email address is being protected from spambots. You need JavaScript enabled to view it..