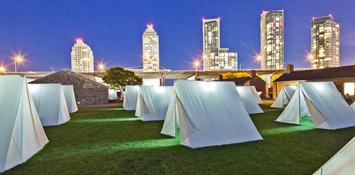 The Rexall OneWalk to Conquer Cancer (2019)
Saturday, September 7, 10 am to 6 pm
Thousands of walkers will take to the streets of Toronto and challenge themselves to raise vital funds for the Princess Margaret Cancer Centre, one of the top five cancer research organizations in the world. Sign up to walk here.

Please note: This is a third-party event. Fort York open as usual, 10 am to 5 pm, regular admission.
War Footing: The Second World War in Toronto
Sunday, September 8, 11 am
To commemorate the 80th anniversary of mobilization, this walking tour will explore some of Toronto's most popular new neighbourhoods and explain how these areas served a very different purpose during the Second World War. Where many Torontonians now live was once the very heart of Toronto's war industry, whose vast output supported Canada's oversized involvement in the conflict.

FREE, with complimentary admission to Fort York after the tour.
Butter Tart Workshop
Thursday, September 12, 6:30 pm to 9:30 pm

This hands-on cooking workshop explores the history of the iconic Canadian butter tart. Using historic Great War recipes, participants will learn how to make the perfect pastry and filling for delicious tarts every time. Light refreshments, a recipe package, and tarts to take home are included.

Pre-registration is required.
War Footing: The Second World War in Toronto
September 21 and 22, 10 am to 5 pm

Canada declared war in September of 1939, galvanizing the city's military, civilian, industrial and commercial interests. Connecting Torontonians to the sacrifice of Canadians in the war, this event marks the 80th anniversary of mobilization, noting especially the contributions of women, Indigenous peoples and the Home Front. The 80th anniversary marks a great chance to pay homage to those veterans who are still with us. There will be ongoing presentations of material culture, food and dance as well as displays of period vehicles, uniforms and equipment throughout the weekend.

FREE admission all weekend