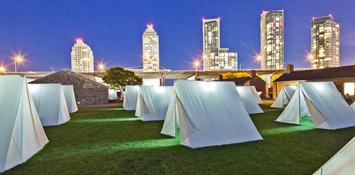 Flare
Friday, August 2, 2 pm to 8 pm

Otherwise known as The Sophisticated Food Inclusive Day Fête – on the Friday of this year's Carnival of the Caribbean, we're going to make you BLUSH! Tickets $70 online.

Please note: This is a third-party event. Fort York will be open as usual, 10 am to 5 pm, regular admission.
Simcoe Day at Fort York (2019)
Monday, August 5, 10 am to 5 pm

Fort York comes to life in honour of the first lieutenant governor of Upper Canada (1793-96) and founder of the fort and the Town of York – John Graves Simcoe. Walk the historic grounds and thrill to musketry, artillery and music demonstrations by the Guards of Fort York, Fort George and Old Fort Erie. Visit the working kitchen in the 1815 Officers' Barracks, take tours of the fort's period buildings, and delight in historical crafts and displays. This is also Emancipation Day, so we'll have a special exhibit by the Ontario Black History Society in the Visitor Centre and an evening performance by Jason Wilson's Sumach Roots.

FREE.
Sumach Roots: Canadian Vignettes (part of Simcoe Day)
Monday, August 5
Vignettes at 12 pm, 2 pm, and 3 pm; Performance, 6 pm to 8 pm
The brainchild of JUNO nominee and best-selling historian Jason Wilson, Sumach Roots draws from a deep well of sounds—from traditional British folk to bebop jazz and classic reggae—in order to tell the stories of those who built Upper Canada, literally and culturally. With a top-flight cast of performers, Wilson delves into the late 18th century diaries of Elizabeth Simcoe, the impact of the Irish Famine, and the great Toronto fires of 1902 and 1904. With humour and pathos, Sumach Roots celebrates "place" and its importance to history and memory.

Vignettes are free with regular admission; evening performance tickets are here.
Toronto Vegandale Food Drink Festival (2019)
Saturday, August 10, 11 a. to 7 pm

Entering its fifth festival season, the Vegandale Food Drink Festival brings highly curated vegan comfort food and craft brews back to Toronto.

Please note: This is a third-party event. Fort York will be open as usual, 10 am to 5 pm, regular admission.