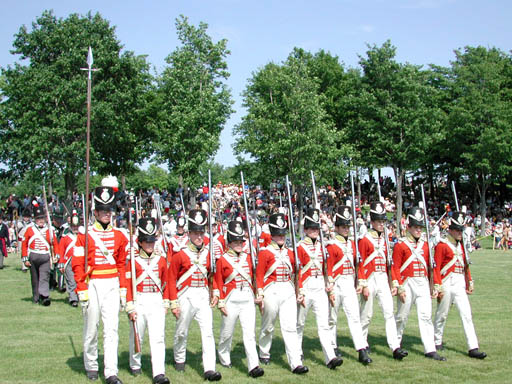 World War 1 Books Available in the Museum Store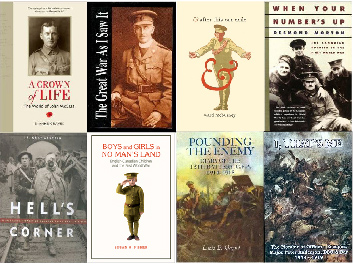 To complement the Great War exhibits at the Fort York Visitor Centre, the Fort York Museum Store is offering an impressive array of World War 1 titles. Whether you are a casual reader or a military enthusiast, there is something here for everyone.
To learn more about World War 1 from a Canadian perspective visit the Museum Store today.

For further information call 416-392-7484.
Now available at the Fort York Museum Store
- Winning The Ridge The Canadians At Vimy Ridge 1917, N.M. Christie
- Lights Out!, Sister Kate Wilson
- Not Mentioned In Dispatches, Sergeant Fred Bagnall
- I, That's Me., Major Peter Anderson D.S.O. & Bar
- Prisoner 5-1-11:The Memoir Of Harry Laird, 4Th Canadian Mounted Rifles 1914-18, Donald Henry Laird
- Pounding The Enemy, Lucie E. Gagné
- The Great War As I Saw It, Canon Frederick G. Scott C.M.G.,D.S.O.
- A Crown Of Life- John Mccrae, Dianne Graves
- The Canadian Corps In Ww1, René Chartrand
- Stanly Barracks, Alsona Sendzikas
- Hells Corner, J.L. Granatstein
- Digging The Trench, Andrew Robertshaw
- Boys And Girls In No Man's Land, Susan R. Fisher
- Canadian Army At War, Mike Chappell
- When Your Number's Up, Desmond Morton
- Canadian Military History, J.L. Granatstein & Dean F. Oliver
- For Freedom And Honour, A.B. Godefroy
- & After This Our Exile, Ward Mcburney
- Sap's War, Ward Mcburney
One Venue - Four Exhibits
Now appearing at the Fort York Visitor Centre are four exhibits. The Great War is explored in three exhibits which include; uniforms, weapons, family keep sakes and art. The most recent exhibit is, Gertrude Kearns: The Art of Command: Portraits and Posters from Canada's Afghan Mission. A visual exploration of the engagement between Canada's military and conflicts around the world.
The Great War-in Your Cellar, Closet or Storage Locker!

Typical Canadian Objects from the First World War

September 19, 2014 - September 2015


At home, you come across an old khaki tunic and cap, a box of medals and badges, and a vase made from a brass cylinder with strange markings on its base. These objects belonged to your grandfather, a soldier in the Canadian Expeditionary Force in the First World War (1914-18). What are these things and what do they mean?


This exhibition in the Fort York Visitor Centre's lobby draws on the City of Toronto's artifact collection to tell the story of typical small objects reflecting Canada's participation in the Great War. Some may have been used on the Western Front; others may have gotten only as far as England. Others never left the home front.

Still other objects seem to have no Canadian connection at all. They represent war decorations and souvenirs from countries who were Canada's allies or enemies. They remind us that "the war to end all wars" was truly global, affecting every continent except Antarctica. Canada's rich pattern of immigration means that your attic, cellar or closet may hold objects similar to the ones displayed here, but with quite different national origins.
Sponsored by AGF Investments Inc.
Outfitted for War: Canadian Uniforms and Weapons of the First World War

September 19, 2014 - September 2015


The smallest exhibit area in the Fort York Visitor Centre – the Vault – is the setting for rarely or never seen before objects from the City's artifact collection. Outfitted for War consists of five display cases and associated text and image panels.

Each of four vertical cases contains a uniform representing different forms of service by Torontonians during the Great War: a private and a lieutenant from the Canadian Expeditionary Force, a nursing sister from the Canadian Army Medical Corps, and a private from the Royal Flying Corps.

A fourth case contains three iconic weapons of the Canadian Expeditionary Force: a Canadian-made Ross Rifle Mk III (Model 1910) with bayonet, the favourite of Minister of Militia Sir Sam Hughes; a British-made Short Magazine Lee-Enfield No. 1 Mk III* Rifle with bayonet, which generally replaced the Ross after it failed under battlefield conditions; and a British-made Vickers, Sons & Maxim Medium Machine Gun No. 2 Mk I, the weapon of choice for Canadian machine gun corps.
Sponsored by AGF Investments Inc.
Art and the Great War: A Toronto Perspective Featuring works from the City of Toronto's Artifact, Fine Art & Archival Collections

September 19, 2014 - September 2015


This exhibition in the Changing Exhibits Gallery looks at visual and decorative art relating to the First World War through a Toronto lens. Besides being drawn exclusively from various City of Toronto collections, all 15 works on display are tied to interesting Toronto stories organized around four thematic sections. Each section, in turn, focuses on a different artistic endeavour: painting, photography, graphic design and three-dimensional decorative objects. A small number of images and artifacts accompany the artworks.
Sponsored by AGF Investments Inc.
Gertrude Kearns: The Art of Command: Portraits and Posters from Canada's Afghan Mission
Until Sunday, June 14, 2015
Since 1991, Toronto artist Gertrude Kearns has explored the engagement between Canada's military and conflicts around the world. In 2005-06, she was embedded with Canadian Forces in Afghanistan while on contract with the Department of National Defence.
Following the DND commission, Kearns has continued to address the Afghan Mission while working as an independent artist. Between 2006 and 2015, Kearns created the 46 portraits and posters appearing in The Art of Command. Most of these works appear on public display for the first time.
Drawing on Kearns' unprecedented access to senior Canadian officers who served in Afghanistan, this exhibition focuses on the complexities and consequences of military command in challenging situations.
The Art of Command contains two parallel but related components. The portrait component comprises 20 large paintings and drawings of individual commanders. The poster component consists of 26 texted art prints. Each poster incorporates an image of a portrait; the accompanying text was developed in consultation with the subject.
While Kearns has been hailed as Canada's leading active contemporary war artist, her earlier work on Somalia, Rwanda and the former Yugoslavia prompted debate about the relationship between art and conflict. As some works in The Art of Command contain provocative images and strong language, this exhibition may not be appropriate for all audiences.
Manager's Report (winter 2015)
by David O'Hara, Site Manager
Although the new Visitor Centre officially opened to the public back in September, finishing touches on various interior and exterior components of the building are still ongoing. Bringing the new facility on line as part of overall museum operations is also a major change for both staff and visitors alike. As reported in the December issue of Fife and Drum, a significant amount of landscaping work will be undertaken in 2015. The work that can't be completed prior to our summer season will likely wait until the fall.
While much of the landscaping will take place in the fall, demolition of the Garrison Road Bridge is scheduled to be completed this April/May. This work will require that staff and visitors begin to use the parking lot at Strachan Avenue and Fleet Street until our full lot in front of the Visitor Centre is ready.
The Fort York Pedestrian and Cycle Bridge will continue to move through the next steps of design in 2015. Build Toronto, who is leading the project, has short listed three teams to continue in the preparation of design submissions. The deadline for submissions is 30 April 2015. For more information visit fortyorkbridge.mmm.ca
Fort York kicked off the 2015 season with what is usually our first event of the year, Queen Charlotte's Ball, on January 17. This was followed by our 6th annual "Mad for Marmalade, Crazy for Citron!." Done in partnership with the Culinary Historians of Canada again this year, it was sold out. A huge thank you to the organizing committee, presenters, sponsors, judges, and all the volunteers who made Mad for Marmalade such a success.
On March 5th after only two months of planning, we opened an exhibition titled The Art of Command by Gertrude Kearns. Kearns has worked officially and unofficially as a Canadian war/military artist for over two decades in large format drawings, paintings, and texted fine art prints, and has participated in various Canadian Forces exercises through the Canadian Forces Artists Program from 2003-2005. She was the official war artist with Task Force Afghanistan in Kandahar in 2006.
Described by the Toronto Star's Peter Goddard as "unquest-ionably the country's leading active contemporary war artist," Kearns has constantly pushed the boundaries of Canadian war art for the past quarter century. Many thanks go out to Gertrude Kearns, Chief Curator Wayne Reeves, Robert Kerr, and our entire Program Design & Development team for pulling together the exhibit in such a short period of time.
Please come and visit The Art of Command on show in the Fort York Visitor Centre until June 14. Visit www.toronto.ca/artofcommand for more information.
Our 2015 season promises to be a very busy one. Check the Upcoming Events section and our website for more information on the Indigenous Arts Festival and other activities.
Fort York Visitor Centre: Worth the Wait
Catherine Nasmith | September 26, 2014
From Issue No. 233 | September 26, 2014
If you haven't been yet, run don't walk to look at the Fort York Visitor Centre.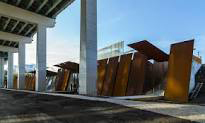 Dreamed about for over 30 years, since it was a gleam in the eye of the late George Waters, it is finally open. All that wishing and hoping and planning and dreaming has paid off with a spectacular, elegant, understated result. One that is brilliantly of its day yet timeless. Kearns Mancini and Patkau architects are to be congratulated along with so many others for keeping the essence of the design through the inevitable compromises of budget and construction.
The design is a simple idea….the building as retaining wall, marking the edge of the former shore line, and through ramps moving the visitor from one plane to another, a time tunnel from the modern city including the Gardiner Expressway up to Toronto's founding place of over two hundred years ago. Built in core-ten steel, a material requiring little ongoing maintenance, it's crisp panels are reminiscent of the shoring of construction sites, and the earth colour of the bank. The way the panels just flip up to invite you into the bright spacious interior is also brilliantly simple.
The landscaping is missing for the moment, yet I rather enjoyed the simply raked soil bringing a brown ground surface up to the walls. To keep that effect would take a lot of weeding!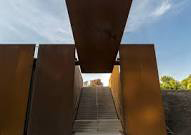 So many people are to be thanked, but I want in particular to salute our friend Stephen Otto, whose passion, persistence, diplomacy and wisdom led to the founding of both the Friends of Fort York, and the Fort York Foundation. He is a hard person to say no to, and he brings so many others into his generous and ever expanding circle of "friends", all called in to serve when it is their turn to help. As he said to me in a recent conversation, "25 years from now when we are all looking down from our clouds we can feel proud of what we have achieved"….Amen. No one should be prouder, yet is so modest about it, than Steve himself.
P.S. And don't miss Charlie Pachter's War of 1812 series, on display in the visitor centre while you are there.