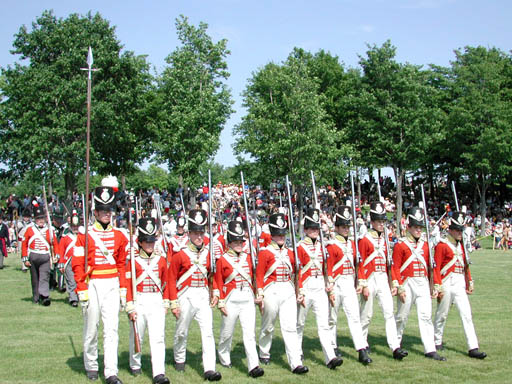 Canadians commemorate 200th anniversary of Battle of York
Monday, April 29, 2013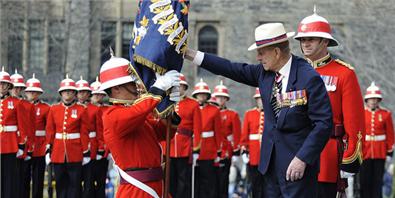 His Royal Highness Prince Philip, The Duke of Edinburgh (HRH), presents new regimental colours to the 3rd Battalion, The Royal Canadian Regiment. Photo: Sergeant Colin Kelley, Royal Canadian Air Force Toronto, Ontario — The City of Toronto and the Canadian Armed Forces (CAF) commemorated the 200th anniversary of the Battle of York in Toronto, Ontario, on April 27.
Events took place throughout the day that reminded Canadians of their history, including demonstrations by present-day CAF members, a march, and ceremonies to mark April 27, 1813.
The day's festivities began with dynamic displays by the 3rd Battalion,The Royal Canadian Regiment (3 RCR), including an urban patrol, rappelling, and a parachute demonstration.
Afterwards, His Royal Highness Prince Philip, The Duke of Edinburgh (HRH), who has been Colonel-in-Chief of The Royal Canadian Regiment since December 1953, presented them with a new Regimental Colour on the steps of the Ontario Legislature at Queen's Park.
"The 3rd Battalion is incredibly proud to have received their new Regimental Colour from our Colonel-in-Chief. (...) Today was the culmination of many weeks of hard work, discipline and a relentless pursuit of excellence, which we hope resonates with those came to watch the ceremony," said LCol David Quick, Commanding Officer of 3 RCR.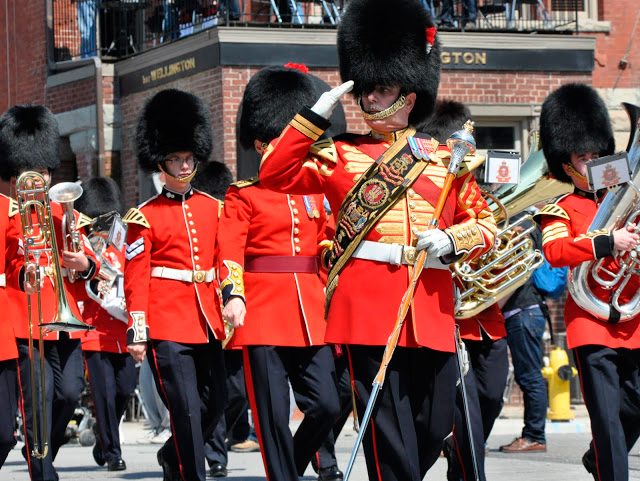 Royal Regiment of Canada band; part of the Canadian Forces' military parade to commemorate the City of Toronto's Battle of York bicentennial, 27 April 2013. Photo: Kathy Mills.Following the presentation of the Colour, a military parade began at Queen's Park, ending at the Fort York National Historic Site, the birthplace of urban Toronto and the location where the Battle of York came to its violent climax in 1813. Over 1400 CAF members participated in the parade, with marching bands, Regimental Colours and ceremonial uniforms giving Toronto a taste of the CAF's rich heritage.
At the Fort York National Historic Site, modern forces joined re-enactment regiments for a commemorative ceremony for the Battle of York. Following this, a ceremony was held which celebrated the significant contributions of First Nations peoples.
"The day was an important way to link ourselves with our history," said LCol Phillip Halton, Commanding Officer of the Queen's York Rangers. "We often think of war and conflict as happening somewhere else. But this happened here. And, when we look back, the things we are doing today are not that different from what our forebears did - it gives us a sense of continuity."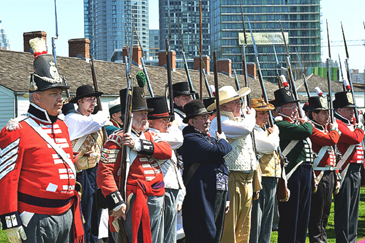 Re-enactors in regular uniforms and a militia dressed more casually present arms at Battle of York Day ceremonies at Fort York on 27 April 2013. Photo: Department of National DefenceThe Battle of York was the largest military conflict in Toronto's history. Approximately 1700 U.S. soldiers advanced on York (Toronto), then the capital of Upper Canada.
U.S. land forces, commanded by BrigadierGeneral Zebulon Pike, and supported by Commodore Isaac Chauncy's naval force, confronted the British Major-General Roger Hale Sheaffe. Under Sheaffe's command were 300 British regulars, 500 soldiers from the 1st and 3rd regiments of York militia, and 50 Mississaugas and Chippewas First Nations allies.
Brigadier General Pike and thirty-nine U.S. soldiers were killed, and 222 were wounded. For the British, over 150 were killed or wounded, and 290 were captured.
"I think it is important to consider what our forebears - the people who fought 200 years ago - would think," said LCol Halton. "Would they be proud of us? I hope so. This is what I take from the 1812 commemorations and it drives me to work hard to maintain a high standard."
Even though the forces defending York were defeated, the battle is an important part of Canada's past. The 200th anniversary of the War of 1812 gives Canadians an opportunity to take pride in our traditions and to commemorate our shared history.
Directorate of Army Public affairs, DND