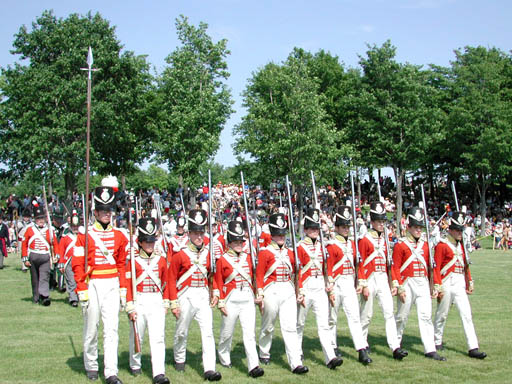 Battle of York spectacularly staged at Fort York's War of 1812 Festival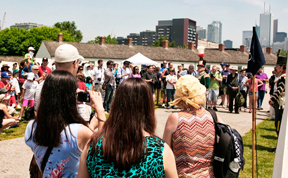 Large crowds gathered on Fort York's parade ground to enjoy the War of 1812 Festival, Fort York National Historic Site, 15-16 June 2013. Photo: Andrew Stewart.Fort York National Historic Site once again became a theatre of war this past weekend with muskets, marching and cannon fire at the free War of 1812 Festival.
More than 6,000 people witnessed Toronto's most traumatic and historic battle, restaged in three stirring sequences. Over 250 re-enactors, collectively called the Re-Enactment Regiments of the Crown Forces and U.S. Forces of North America, descended upon and camped out at Fort York throughout the weekend.
"A military battle re-enactment of this scale has not been mounted at Fort York for more than a decade," said Councillor Michael Thompson (Ward 37 Scarborough Centre), Chair of the City's War of 1812 Bicentennial Steering Committee. "This weekend was a special opportunity for visitors and for Torontonians to fully experience a pivotal time in Toronto's history."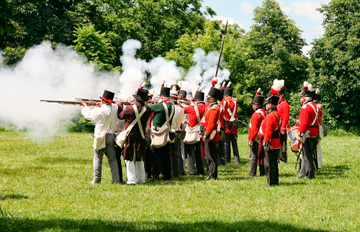 Crown Forces opposing U.S. Forces in a reenactment of part of the Battle of York on Garrison Common, War of 1812 Festival at Fort York National Historic Site, 16 June 2013. Photo: Andrew Stewart.The battle scenes were created and narrated by historic re-creation director Peter Twist. Known in North America for his 1812-era battle re-enactments, Twist is also recognized for his battle choreography on some of the Pirates of the Caribbean films.
Throughout the weekend, Fort York also appeared as it was two centuries ago, with period music and dance by the Drums of the Crown Forces, the York Regency Dancers, Gin Lane and Anishinabe First Nations performers, Morningstar River.
At the Sutlers' Row marketplace, merchants peddled 1812-era reproduction items, including clothing and accessories. Visitors also toured the encampment, interacted with the re-enactors and watched demonstrations of trade and artisanal work while enjoying period food and food presentations in the Officers' Quarters and the outdoor fire pit.
A British flag-raising launched the festival on Saturday morning while on Sunday morning, the U.S. Stars and Stripes flew over Fort York, symbolically signalling the fall of the fort to the Americans.
"The revitalization of Fort York and the Garrison Common is creating a unique downtown space that can be enjoyed by its surrounding community and by all Toronto residents," said Councillor Mike Layton (Ward 19 Trinity-Spadina).
The Fort York Foundation received a $100,000 gift from TD Bank Group in support of the revitalization of the western end of Fort York's Garrison Common. The Garrison Common hosted the weekend's battle re-enactments and will also host many large events this summer.
"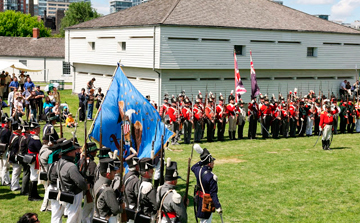 U.S. and Crown Forces reenactment units at flag-lowering ceremony during the War of 1812 Festival, Fort York National Historic Site, 15-16 June 2013. Photo: Andrew Stewart.Fort York's Garrison Common is not only a part of Toronto's history, but it also continues to be significant space for residents and visitors to enjoy," said Alan Convery, Senior Manager, Community Relations, TD Bank Group. "At TD we are committed to protecting urban green spaces and are thrilled to be part of the revitalization of this beautiful space in the heart of the city."
The TD Bank Group funds will support the rehabilitation of the historic military burial ground and the surrounding ceremonial area, the installation of modern interpretive signage, maintenance of existing trees as well as the planting of new ones, and resurfacing of the central walkway.
The War of 1812 Festival was presented by the City of Toronto with support from the Government of Canada, the Province of Ontario, Ontario Cultural Attractions Fund, Tourism Toronto, the Department of National Defence, Pioneer Energy, the RBC Foundation, and AGF Management Ltd.
All of the War of 1812 Festival events are part of the City's War of 1812 Bicentennial Commemoration program. Fort York is located at 250 Fort York Blvd. and is one of 10 historic museums operated by the City of Toronto. The public can call 416-392-6907 or visit http://www.toronto.ca/fortyork for more information on the Fort's many events.
The public can also find, and interact with, Fort York at https://twitter.com/fortyork
and on Facebook at https://www.facebook.com/fortyork
Toronto is Canada's largest city and sixth largest government, and home to a diverse population of about 2.8 million people. Toronto's government is dedicated to delivering customer service excellence, creating a transparent and accountable government, reducing the size and cost of government and building a transportation city. For information on non emergency City services and programs, Toronto residents, businesses and visitors can dial 311, 24 hours a day, 7 days a week.
Shane Gerard, Communications Coordinator
City of Toronto