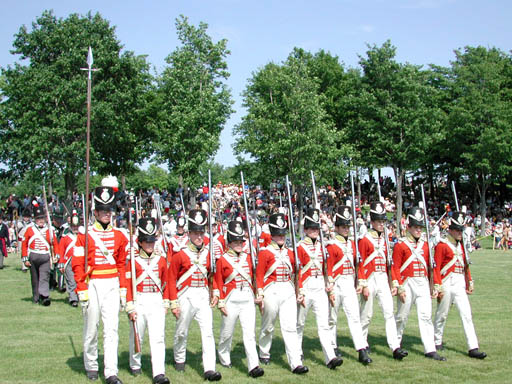 Indigenous Arts Festival at Fort York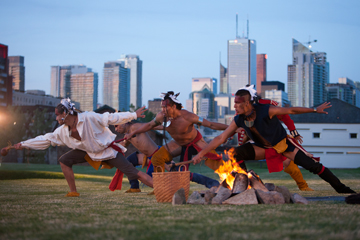 Indigenous Arts Festival, Kaha:wi Dance Theatre. Photo by David Hou.The First Nations and Métis experience during the War of 1812 was artistically honoured and explored with dance, music, theatre and literary works at the free Indigenous Arts Festival at Fort York National Historic site June 20-22.
"This festival successfully showcased the diverse history and talent that exists within Toronto's and Canada's Aboriginal communities," said Councillor Mike Layton (Ward 19 Trinity-Spadina), Co-chair of the City of Toronto's Aboriginal Affairs Committee.
The performances evoked the personal and collective indigenous experience in a space and place where some of that history occurred.
The festival presented three world premieres:
- The Honouring, an evocative multi-disciplinary work from award-winning choreographer Santee Smith's Kaha:wi Dance Theatre
- The Road, an original play from the Centre for Indigenous Theatre
- Corps de Voyageur - Soldiers in Capote, a play from an original script from Métis historian and filmmaker Virginia Barter with original music composed and performed by the Métis Fiddler Quartet.
Additional events included the Toronto launch of a new book "Mississauga Portraits, Ojibwe Voices' from Nineteenth-century Canada" by Donald B. Smith and multiple performances by renowned Toronto Anishinabe group, Morningstar River.
Fort York marked National Aboriginal Day on June 21 with expanded aboriginal programming that encompassed traditional stories, songs, dances and a stirring sunset ceremony by the Mississaugas of the New Credit First Nation.
All of the Indigenous Arts Festival @ Fort York events were part of the City's War of 1812 Bicentennial Commemoration program. Fort York is located at 250 Fort York Blvd. and is one of 10 historic museums operated by the City of Toronto.
More information is available at http://www.toronto.ca/fortyork, 416-392-6907, https://twitter.com/fortyork and https://www.facebook.com/fortyork.
This festival was presented by the City of Toronto with support from the Government of Canada, the Department of Canadian Heritage, the Province of Ontario and Tim Hortons.
Toronto is Canada's largest city and sixth largest government, and home to a diverse population of about 2.8 million people. Toronto's government is dedicated to delivering customer service excellence, creating a transparent and accountable government, reducing the size and cost of government and building a transportation city. For information on non emergency City services and programs, Toronto residents, businesses and visitors can dial 311, 24 hours a day, 7 days a week.
Shane Gerard, Communications Coordinator
City of Toronto