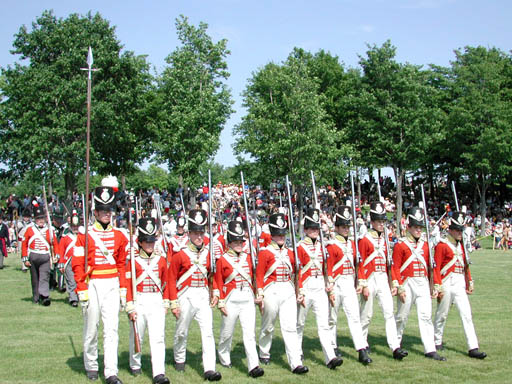 An appreciation: David O'Hara's many contributions to Fort York
by Andrew Stewart


David O'Hara in early June, 2014, as the Fort York Visitor Centre nears completion. Designed by Patkau Architects of Vancouver and Kearns Mancini of Toronto, it was awarded a Governor General's Medal in Architecture in 2018. Fort York Armoury is in the background. Photo by Kathy MillsDavid came to Fort York in 2005 with 12 years of experience as a planner and project manager in Parks & Recreation at the City of Toronto. Trained as a landscape architect and planner, he brought with him great skills and the knowledge of how work actually gets done at the City. He also brought a collegial work ethic, unrelenting energy, and an instinct for finding common ground.

David had already worked with the Friends and other stakeholders on the Open Space Design and Implementation Plan for Fort York that was completed in 2001. He was familiar with what was then the fort's unique problem: it had no surrounding neighbourhood and it was separate from the larger city. This was changing, of course, with 15,000 units then being planned and under construction. David was just the right person to meet the challenge presented by this change.

Beginning in 2005, David identified Fort York as an "archaeological landscape" encompassing 43 acres. He worked to extend oversight and protection to all its cultural resources in the context of massive neighbourhood and municipal infrastructure development. He led the charge on many fronts: elevating the profile of Fort York in Toronto as well as nationally and even internationally; consolidating the site's physical and historic assets under the control of the Economic Development & Culture Division; giving the fort a distinctive and unifying brand; providing a front door onto Fort York Boulevard; and helping to position it as a significant destination for Torontonians and visitors alike. All of these moves were careful, strategic and cooperative.

At the start of his term, the Fort York Visitor Centre had been a beckoning (but distant) goal for decades. The approaching War of 1812 bicentennial magnified its appeal. Planning in earnest began in 2008. With enormous good will and help from Deputy Mayor Joe Pantalone, David ensured that the Visitor Centre design process met the highest standard: a professional jury was appointed to select the best design after an open competition. He consistently and persuasively argued for it to serve as a hub for the entire national historic site and for the larger, developing Fort York neighbourhood. Again, this advocacy elevated the fort's profile, reinforcing the significance of the site as a one-of-a-kind civic common in downtown Toronto.
The city's War of 1812 bicentennial was skillfully and passionately managed by Sandra Shaul, who worked closely with David (and many other key players, including the Canadian Army) as Fort York became the centrepiece of bicentennial events. New and talented staff combined with the deeply knowledgeable personnel already at the fort to support new programs aiming at an audience broader and more diverse than ever before. One of the bicentennial's legacies is the annual Indigenous Arts Festival, which David was instrumental in supporting and expanding. The bicentennial also established a closer relationship with First Nations curators, historians and artists – Fort York serving as common ground.

As administrator, then manager, of the national historic site, David deftly challenged and, at the same time, made common cause with myriad departments and agencies of the City which all had a stake, one way or another, in this founding landscape. By necessity, he formed long working relationships with Planning; Parks, Forestry & Recreation; Waterfront Toronto; CreateTO; Toronto Parking Authority; the TTC; Engineering & Construction Services; and Toronto Hydro. And that's just the City. On the federal side, the departments of Canadian Heritage and National Defence were both important to site planning, programming and management. Victoria Memorial Square came into the City's fold, under the big wing of Parks, Forestry & Recreation, from the federal government – the last bit of land remaining from the Crown's tenure of Garrison Common dating to the eighteenth century. A working relationship with the Department of National Defence is also important, given that the future of Fort York Armoury, part of the national historic site, remains undefined. And a strong relationship was forged with the Lieutenant Governor's office, His Honour David Onley visiting the fort on several occasions and holding his New Year's levee there in 2011.

In addition to all these, there were (and remain) community stakeholders, program partners, project managers (for the Visitor Centre construction and War of 1812 bicentennial), funders and granting agencies as well as many volunteers. David worked closely with the Friends and the Fort York Foundation and, despite his demanding schedule, found time to attend most of our monthly meetings. He also helped us plan (and then faithfully attended) countless joint events.

David's professional background in planning and landscape served Fort York very well. Under his leadership, physical connections and the quality of those connections received close attention. They include a re-designed Garrison Road and the removal of an obsolete bridge; Garrison Common's improved connection to the walled fort (including the historic field of fire, cleared with a $1 million gift from the W. Garfield Weston Foundation thanks largely to David's advocacy); oversight of how Garrison Crossing would land on the Common; and new pathways with comprehensive wayfinding. A trail has been built along the north edge of the site that will eventually carry the West Toronto Railpath under the Bathurst bridge to CityPlace and downtown.

Starting with his arrival in 2005, David led the way in cleaning up the space under the Gardiner Expressway. This meant reclaiming this derelict brownfield as part of the national historic site, rezoning it as parkland, seeding the ground, building walkways, overseeing the art project Watertable and recognizing under-the-Gardiner's cathedral-like scale and volume. All of this prepared the ground for the Bentway.

Shepherding disparate parts into a coherent whole is not an easy task and requires much patience, a knack for master planning, and a chess-player's mind for how the parts relate in the long run and the opportunities afforded by their movements on the board. And they are wonderful parts: an elegant new Visitor Centre; a rehabilitated and expanded Garrison Common; the Strachan Avenue Military Burial Ground; Fort York Armoury; Garrison Crossing and its connection to a re-developed abattoir site in the Niagara neighbourhood; the coming Lower Garrison Creek Park; Fort York Toronto Public Library; and even more.

David demonstrated all these skills of foresight and we were fortunate to have his steady management of this complicated, historic piece of real estate – now surrounded on three sides by residential towers – through all the years of on-site construction and the extended 1812 bicentennial. The legacy of the bicentennial, and of David's management, is one of vastly increased programming, diversity, attendance and profile of Fort York National Historic Site. We wish David well in his new endeavour overseeing the Rail Deck Park project – just next door! While we can say a heartfelt thank-you, we don't, in fact, have to say goodbye. Our Precinct Advisory Committee continues to benefit from his participation and expert advice, as we hope it will for years to come.
Dr Andrew Stewart is an archaeologist, vice-chair of the Friends of Fort York & Garrison Common and Board Chair of the Fort York Foundation.