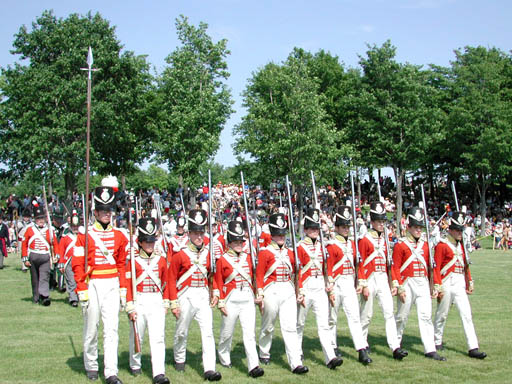 Managers Report (Fall 2017)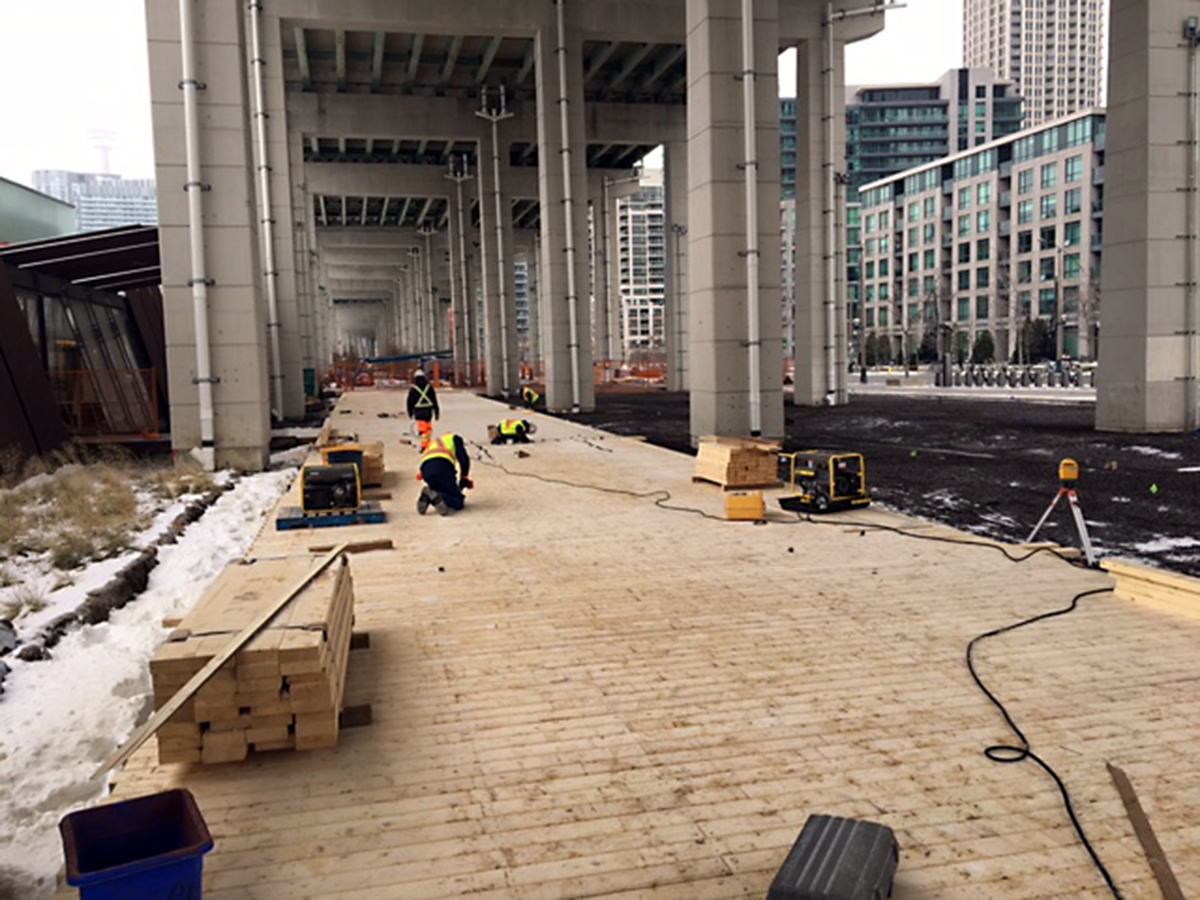 The Fort York Foundation has raised the funds which, combined with a federal government grant, has allowed Fort York National Historic Site to proceed with construction of the long-awaited Wharf (formerly known as the Events Dock) in front of the Visitor Centre. The Wharf is Fort York's new outdoor programming venue. It practically doubles the Visitor Centre's capacity for events in the warmer months and we can expect that it will be jointly programmed by Fort York and The Bentway. Credit: David O'Hara
by David O'Hara, Site Manager
2017 certainly proved to be the busy year we expected, with a wider and more diverse range of programs and events on-site at Fort York than ever. We moved from Queen Charlotte's Birthday Ball in January through to the Frost Fair and our holiday season baking workshops in December—with Vimy 100, the Indigenous Arts Festival, Simcoe Day, On Common Ground, and much more in the months between.
Following our active summer season we were honoured to be able to host the archery competition as part of the Invictus Games http://www.invictusgames2017.com and the annual Sick Kids Great Adventure Camp walk http://web.sickkidsfoundation.com/walkforsickkids
Our After Dark Lantern Tours in October were very popular, selling out on all but one of the nights. On November 7 we hosted the Vimy Foundation's launch of their exhibit The Great War in Colour. The event featured the premier of a short film by the National Film Board, with remarks by actor Paul Gross. Others in attendance included Lieutenant-Governor Elizabeth Dowdeswell. https://www.nfb.ca/film/return-to-vimy
Around the same time we opened a temporary mapping exhibit titled Canada before Confederation, produced by Dr. Lauren Beck of Mount Allison University. The exhibit, which includes a Toronto-specific component developed by Collections and Curatorial staff, will be on display until the end of April 2018.
Over 1100 persons attended our annual Remembrance Day ceremony, which marked significant anniversaries of Vimy Ridge, Passchendaele, and the Battle of Hill 70 as well as the 75th anniversary of the Dieppe Raid in the Second World War. Those placing wreaths as part of the service included MPP Han Dong, IODE representatives, TDSB and TCDSB trustees, and more. http://www.metronews.ca/news/toronto/2017/11/12/hundreds-gather-in-toronto-for-remembrance-day-service.html
In the fall we undertook work with an organization called CyArk to develop a photorealistic 3D model of Fort York. CyArk's work, which was funded by Iron Mountain, a records management and storage company, included an aerial survey, terrestrial laser scanning, and photogrammetry of the fort's grounds and buildings. The data products will be used to monitor site conditions, inform archaeological master planning, and support interpretive activities. We would like to thank both CyArk and Iron Mountain for their interest in ensuring Fort York National Historic Site is preserved for generations to come. http://www.cyark.org/news/iron-mountain-and-cyark-join-forces-to-digitally-preserve-fort-york-for-generations-to-come
As a staffing update, we're pleased to announce that Kristine Williamson is now our permanent supervisor of special events. Kristine, who had been acting in the position for the last year, is a museum professional with over ten years experience creating diverse and engaging cultural programming. She has a BA in Canadian History, a Master's in Public History, and has worked with a variety of organizations and museums across Toronto, including Mackenzie House, the Design Exchange, Lord Cultural Resources, and the Toronto Society of Architects.
Our staff continue to work closely with The Bentway Conservancy to get ready for a busier than normal winter season here at Fort York. The first section of The Bentway to be developed, The Bentway Skate Trail, will officially open to the public on Saturday, 6 January 2018 with the Mayor's Skate Party on Sunday, January 7.
As the entire first phase of The Bentway forms part of the National Historic Site, we're excited to be partnering with this new creative team to bring more people down to experience both The Bentway and Fort York. For more information, see the article by Kasia Gladki in this same issue or visit www.thebentway.ca
Signs pop up near Fort York, warning dog owners of shallow graves
by Ieva Lucs, CBC News
The museum manager wants to alert residents to the 19th Century burial ground beneath their feet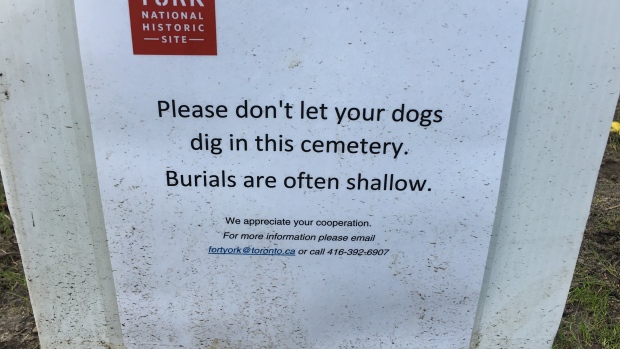 Signs around Strachan Avenue are warning dog walkers not to let their dogs dig in the 155-year-old military cemetery beneath their feet.
If you've been walking through the Strachan Avenue park recently, just west of Fort York National Historic Site, you may have noticed some curious signs popping up.
"Please don't let your dogs dig in this cemetery," they read. "Burials are often shallow."
The notices were put up by staff at the museum to alert dog owners to what is beneath their feet — approximately 200 graves dating back 155 years. To the far west side of a large area known as the Garrison Common, down between the railway to the north and the Gardiner Expressway to the south, is the Strachan Avenue Military Burying Ground.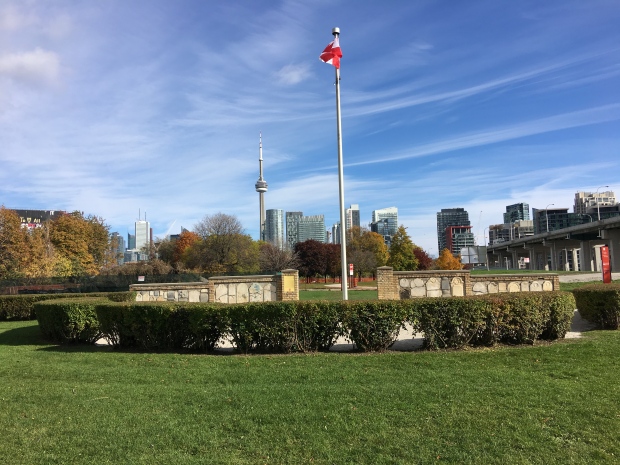 A view of the memorial area in the Strachan Avenue Military Burial Ground. (Greg Ross/CBC)
Soldiers and their wives and children were laid to rest in that area from 1862 to 1911. There are only records for 97 of the people buried in the cemetery. Most of the burials took place before the British army relinquished the garrison to the Canadian military in 1870. There may also be the remains of American soldiers who fell during the Battle of York in 1813. And lately, David O'Hara, the museum's manager, has noticed holes being dug in the cemetery ground, sometimes a foot deep. The culprits are presumably local dogs.
"We're not your typical park," O'Hara told CBC Toronto. "The entire central part of the Common is like the rest of Fort York — a registered archaeological site."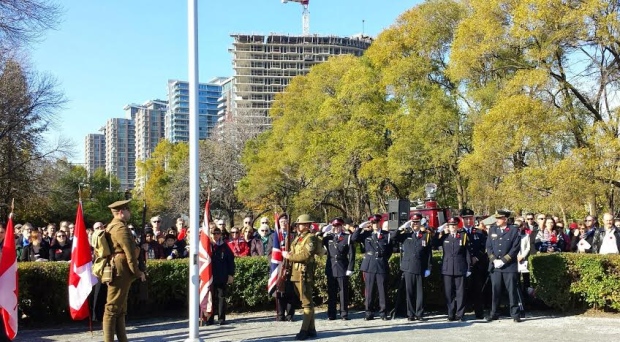 A view of the memorial area in the Strachan Avenue Military Burial Ground. (Greg Ross/CBC)
O'Hara says many people have moved to the area over the last few years, and more are coming, which could cause problems for a sensitive area like the 155-year-old cemetery.
A new pedestrian bridge, called Garrison Crossing, will cross the train tracks to the north to make it easier for foot traffic to move from Trinity Bellwoods Park and the Common. As well, the highly anticipated Bentway project is set to open this winter, not to mention all the new condos going up in the area.
Skating trail below the Gardiner turns unused land into public space
Preservation group tries to save 'precious' buildings in Liberty Village​
"There's thousands of new units going up around the fort," O'Hara told CBC Toronto. "A space that wasn't heavily used in the past is becoming increasingly used by all sorts of residents for walking their dogs and using it as a central part of the park system down here."
But he says they've been preparing for the influx of residents for quite some time. O'Hara says the fort welcomes new visitors to use the Garrison Common and Strachan cemetery as a thoroughfare. But, he says, they should also treat it with care.
"We want to move people through the space," said O'Hara. "And we want them to feel a sense of ownership when it comes to the fort."

'Service, sacrifice and commitment'


Warrant Officer Glenn Miller, retired after 25 years with the Royal Canadian Artillery, is a registered speaker for The Memory Project, which is an organization that brings schools and community groups together with veterans who volunteer to speak at events.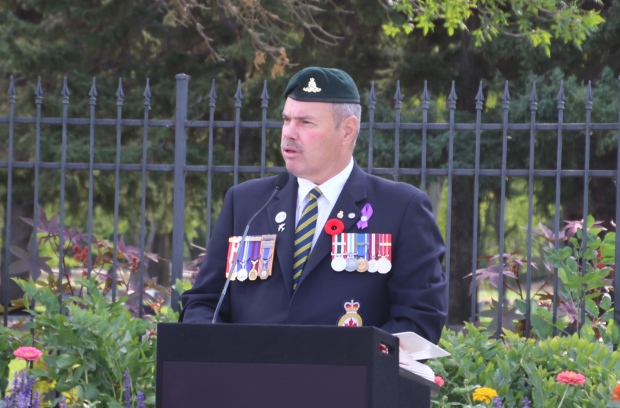 Warrant Officer Glenn Miller. (Submitted)
He says it's important for people to appreciate the fact that the military cemetery is so close to where they live.
"The country has been built on military participation throughout our history," Miller told CBC Toronto. "It's important that people know and understand the contribution that veterans have made, and to respect their service, sacrifice and commitment in helping to build their particular neighbourhood."
Fort York will hold a Remembrance Day ceremony at the memorial that stands on the cemetery site. Miller says people walking through the site that day, or any other, should keep those soldiers buried below in mind as they pass through the park.
"For many Canadians, they've never had the worry of having someone else's tank drive down their neighbourhood," said Miller. "We are fortunate to enjoy that freedom ... at a cost that's quite cheap compared to other countries."
Marc Lescoutre, a spokesperson for Veterans Affairs Canada, spoke to CBC Toronto about the issue.
"We would remind Canadians that these are special places, and ask them to remain respectful when visiting monuments war memorial and other sacred landmarks," said Lescoutre.


Ancient Human-Powered Transportation Coming to The Bentway
by Kasia Gladki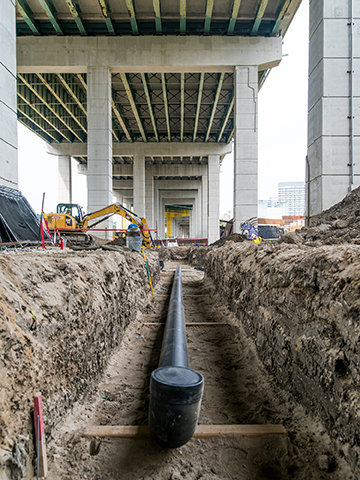 Currently pipes for making ice are being installed to create a skating trail for The Bentway under the Gardiner and in front of the Fort York Visitor Centre. Credit: Sean GalbraithIf you've been to the fort recently, you will have seen perimeter fencing, trailers, cement pourers, and other construction machinery. This is the foundation of what will become The Bentway and is the work of The Bentway's construction manager, Peter Keiwit Sons ULC—who are on site every weekday, with over 130 skilled labourers and more than 50 subcontractors, turning our vision into a reality.
There are many things happening on the site each and every day. Substantial excavation work has already taken place and more than 1420 metres of utility piping has been installed, which is the equivalent of ten football fields. Above and below ground electrical conduits are in place that will power lighting fixtures throughout the site. The roof deck of the Gardiner has actually helped to keep things on track, offering a shelter from the wet weather.
With winter skate season coming up, we are especially excited to see the fantastic progress on the skate trail and icehouse. Ice skating has been called the oldest human-powered means of transportation; skate artefacts have been found in Scandinavia and Russia going back 5000 years. Our skating trail is a bit more modern than that. The 220-metre skating trail uses a refrigeration system: 13,746 metres of embedded piping, which is connected to the refrigeration system in the skating shed, carries coolant throughout the trail. When activated the coolant travels through the pipes to take the heat from the surface and distribute it to the refrigeration equipment. This means that ice production is less weather-dependant and visitors will be able to enjoy the trail throughout the winter. The foundation and walls of the icehouse are underway and surface concrete for the trail is being poured right now. If all goes well, we'll be skating this December!
For more construction updates and to learn about upcoming events and opportunities please sign up for our email newsletter. You can visit our website at http://www.thebentway.ca/get-involved/#join-us or send an email to This email address is being protected from spambots. You need JavaScript enabled to view it. to subscribe.
Kasia Gladki is manager of communications, The Bentway Conservancy.
Managers Report (Summer 2017)
by David O'Hara, Site Manager
After kicking off the first half of 2017 with an extremely busy calendar of events and programs, including Vimy 100 Toronto, the Indigenous Arts Festival, and much more, we moved into our lively summer season. Throughout the summer we hosted many third-party events, including the Rose Picnic (https://www.rosepicnic.com/), All Day I Dream of Sunshine Divine music festival (https://www.alldayidream.com), CitySTRONG (http://citystrong.com/), Vegan Fest (https://www.vegandrinkfest.com/), the closing gala for the World Indigenous Peoples Conference on Education and more.
Our own events included a celebration of Caribbean steel pan music featuring GTA youth steel bands and the award winning ensembles Pan Fantasy and Afropan performing outdoors on Garrison Common. Held on August 6 as a lead-up to Simcoe Day, this was presented in partnership with the Pan Arts Network and The Bentway, with funding from Canadian Heritage as part of our Canada 150 TO Canada with Love program. On Simcoe Day itself, the Guards from Fort George National Historic Site and Old Fort Erie joined the Fort York Guard in our annual event.

Although Fort York was to host the Change of Command for Canadian Army's 32 Brigade in July, the event unfortunately had to be moved indoors to the Fort York Armoury due to bad weather. Another event of note was a reception hosted earlier in the summer (June 24) at the Fort York Visitor Centre by Mayor Tory for the Toronto Consular Corps Association of Toronto. Guests enjoyed visiting Fort York and the opportunity to hear remarks from both Mayor Tory and Chief Laforme of the Mississaugas of the New Credit First Nation.

In addition to our own Canada Day programming, we were also very pleased to be able to partner with our neighbours at City Place, Concord Adex, on an event and a ten-day pop-up exhibit at their Canada Place presentation centre from June 30 to July 10. This was part of an ongoing partnership which began in 2015, when Concord Adex arranged for a buried 19th-century schooner to be lifted from lakefill and moved to Fort York. The exhibit enabled Museums and Heritage Services to display small archaeological finds related to the vessel, along with a scale model commissioned by Concord Adex and subsequently donated to Fort York. As part of the Canada Place development, Concord Adex has commissioned Canadian author and artist Douglas Coupland to complete a public art installation for the site. http://dailyhive.com/toronto/toronto-concord-canada-house-150-contest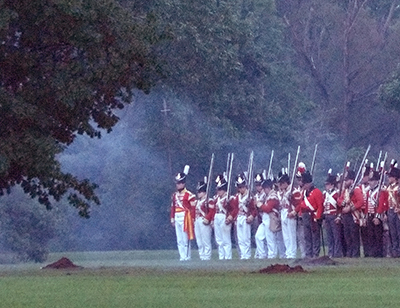 ComThe Fort York Guard participated in exercises at Fort Erie in mid-August. This picture provides evidence that 'the fog of war' is more than a figure of speech. Photo courtesy of Virginia HurleyThe Fort York Guard performed their last day of music and black powder demonstrations on August 28. The recreated Grenadier Company of the Canadian Regiment of Fencible Infantry and the Corps of Drums had both a busy and successful summer. The three major heritage presentations (Simcoe Day at Fort York NHS, The Siege of Fort Erie at Old Fort Erie, and The Soldiers' Field Day and Drums Muster Weekend at Fort George) were all great successes. The Fort York Guard also co-operated to a greater degree this season with the military animation staffs from Fort George, Fort Malden, and Fort Erie. A huge thank you to all who participated in the 'Guard Committee'—advising and working with the Guard throughout the year.
Moving into September, the OneWalk to Conquer Cancer saw over 3000 move through Fort York as part of a fundraising event for Princess Margaret Hospital. Sofar Sounds Toronto popped up at the Visitor Centre with a surprise performance by artists Torero, Luyos MC, and T. Dot Bangerz Brass. Sofar Sounds operates in 371 cities worldwide bringing small, intimate concerts to unique and unusual locales. This event was presented jointly by Fort York and The Bentway.
The highlight of our September calendar, which was also part of the City's TO Canada with Love program, was our On Common Ground Festival. Working with the Institute for Canadian Citizenship, 39 new citizens were sworn in on the afternoon of September 15 to launch a weekend full of programming. A huge thank you to the ICC's Fort York Volunteer Committee, and Nancy Fung in particular, for all of their efforts in bringing these wonderful ceremonies to Fort York.

On Common Ground also featured the world premiere of Miigis by Red Sky Performance. Melding contemporary Indigenous dance and live music, Miigis explores the catalysts, trade routes, and stories of a journey from the Atlantic Coast to the Great Lakes, and the seven prophecies marked by Miigis. The production was made possible by the federal government's Canada 150 funding and was developed on site at Fort York over the summer. It was an honour and a pleasure for us at Fort York to be able to assist in bringing this wonderful production to life—congratulations to Sandra Laronde and everyone at Red Sky Performance. http://www.redskyperformance.com/index.php/miigis/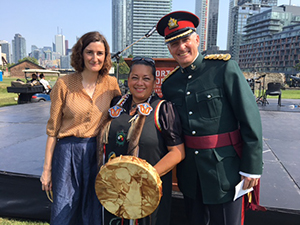 Jill Patterson (Canada 150 Project Manager, City of Toronto) and Don Cranston (Chair of the Friends of Fort York and Honorary Lieutenant Colonel of the Royal Hamilton Light Infantry) flank Kim Wheatley (Anishinaabe Cultural Consultant) at the reaffirmation ceremonies that were part of the On Common Ground Festival. Photo courtesy of David O'HaraOn Common Ground also included two citizenship reaffirmation ceremonies that were presided over by Satish Kanwar, vice president of product at Shopify, and Don Cranston, chair of The Friends of Fort York and Honorary Lieutenant Colonel of the Royal Hamilton Light Infantry. Other programming included live music performances by NEFE, Pan Fantasy, The Monkey Bunch, Tich Meredza & Ruben Esguerra, Baque de Bama, Amadou Kienou, Ritmo Flamenco, and T. DotBangerz Brass.

Congratulations to our acting supervisor of special events, Kristine Williamson, and the entire team involved in making On Common Ground such a success. As quoted in the media release by Mélanie Joly, Minister of Canadian Heritage, "Activities like the On Common Ground festival, organized as part of Canada 150 and TO Canada with Love, provide exciting activities for the whole family to engage with the rich cultural diversity that is at the heart of who we are as Canadians."

September came to a close with the Invictus Games; details can be found in the lead article by Bruce Kidd in this same issue. We're also hoping everyone comes down to see the "Vimy Foundation's First World War in Colour" (www.vimyfoundation.ca), a unique and innovative project colourizing 150 images from the First World War. The exhibit will be on display in the Visitor Centre until the end of October.

On the construction front, an update on The Bentway is located on page 10, and information on Garrison Crossing is available at http://fortyorkbridge.mmm.ca/updates/August 2017 Garrison Crossing Update.html